The Increasing Demand of Steel Rebar and its Market Overview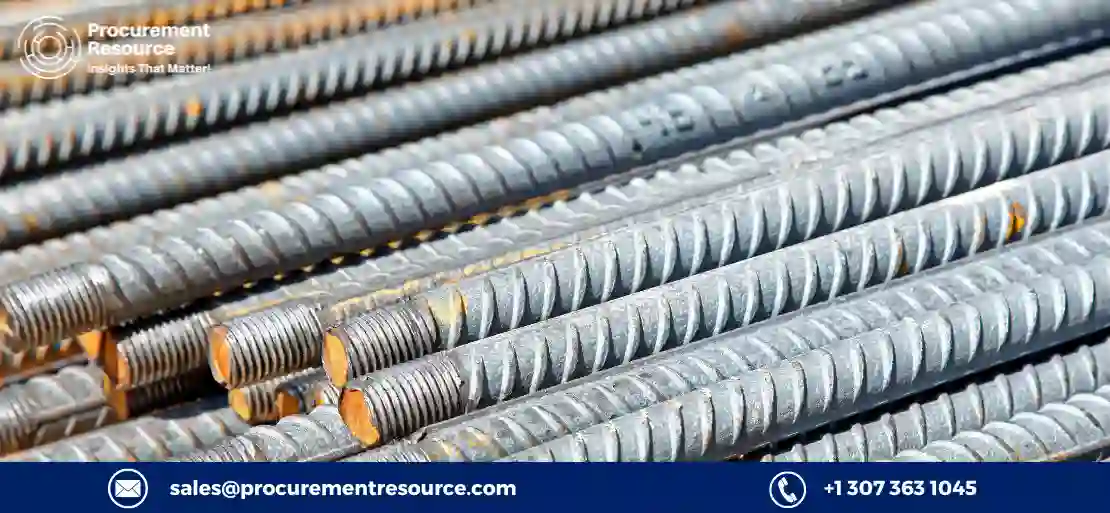 Steel Rebar: Definition

Steel rebars, also known as "steel reinforcement bars," are deformed ferrous steel bars that increase the tensile strength of concrete. The concrete itself has weak tension but strong compression.
Request Access For Regular Price Update of Steel Rebar
The steel rebars elongate when they are exposed to high temperatures. It functions as a tension device in reinforced masonry and reinforced concrete buildings.
Carbon steel, stainless steel, European, epoxy-coated, welded wire fabric, galvanised, sheet metal, expanded metal or wire mesh, and glass-fibre reinforced polymer (GFRP) rebars are among the varieties of rebar that are offered.
This blog contains detailed information on production process, pricing trends, key competitors, and market drivers.
Production Process of Steel Rebar
Steel rebar production via electric arc and rolling steel mills:
Steel rebar is produced through electric arc and rolling steel mills. The procedure involves gathering scrap steel from various sources and feeding it into an electric arc furnace, where the steel slag is initially stored in a ladle and is heated to temperatures as high as 1,800 °F to melt it. After that, the molten steel is created and is confined in casters with the help of tundish, which stops the molten steel from splashing. The steel is given the necessary shape after being placed in several casters.
Thus, the billets are created, which are further treated to create steel billets. Following that, the steel billets are stored and processed in rolling steel mills where they are rolled to the necessary specification for steel rebar.
Steel Rebar Price Trend
North America
Steel rebar's price stayed the same. The completion of construction enterprises backlogs and less competitive international prices were accompanied by delayed orders for market participants.
Steel rebar manufacturers decreased their pricing to keep pace with falling import prices, which were further slashed by a slowdown in United States demand for foreign capacity in 2023 and falling raw material costs.
According to sources in the market, rising infrastructure expenditure was the main factor influencing the cautiously optimistic forecast for domestic demand. The supply chain was impeded by the festive holidays and heavy snowstorms.
Asia Pacific
As the steel rebar production cost continued to fall, its prices displayed conflicting sentiments. Steel rebar surged in the Chinese market as a result of falling inventory levels, as the supply chain was impeded by rising infection rates and workforce shortages. On the upstream side, coke stabilised, and the price of scrap steel fluctuated side by side, maintaining stability overall. Month after month, demand fell while the regional market's seasonal effects grew.
However, demand was minimal during the typical off-season. The impacts of the off-season intensify in December. Steel production fell further as a result of decreased profits.
Europe
Due to sluggish demand and ample supplies to serve the domestic market, the overall market prices of steel rebar in Europe continued to decline.
Leading steel mills around the country also significantly altered their factory prices, which caused spot costs for domestic businesses to soar. Furthermore, the raw material trend was solid, providing spot products with significant short-term support. Due to consumer and industry competition, the European market had significant inventories.
The pricing remained within the constant range. For the Christmas season, steelmakers experienced early supply and demand imbalances. Steel rebar producers intend to pause production for maintenance before resuming it.
Key Market Players:
ArcelorMittal S.A.
EVRAZ plc
Gerdau SA
Nucor Corporation
Tata Steel Limited
Steel Rebar Producing Countries
The leading steel rebar producing countries are the United States, Japan, South Korea, Turkey, Brazil, Iran, and Russia.
Market Drivers
One of the main elements fostering a favourable view for the steel rebar market is the construction industry's significant rise over the years. In addition, market expansion is being fueled by considerable infrastructure construction, particularly in developing nations.
Read More About Steel Rebar Production Cost Reports - REQUEST FREE SAMPLE COPY IN PDF
In the building of contemporary skyscrapers, roads, highways, bridges, sewage, tunnels, airports and stadium, steel rebars are frequently employed. In accordance with this, rising demand for deformed steel reinforcement is boosting market expansion.
In order to minimise slippage and improve bonding with the cement bears and columns, it is utilised as a prestressed reinforcing bar in building activities.
Other growth-promoting aspects include a variety of product breakthroughs, such as the creation of thermo-mechanical technology that helps to enhance the quality of rebars. It is projected that additional factors, such as quick industrialization and rising product demand from non-residential sectors like oil and gas, will further propel the market.
About Author:
Prakhar Panchbhaiya
Senior Content Writer at Procurement Resource
Prakhar Panchbhaiya is an accomplished content writer and market research analyst. With over 4 years of experience in content creation and market analysis encompassing many industries, including pharmaceuticals, nutraceuticals, biochemistry, healthcare, ed-tech, and Food & Agriculture, he has been creating quality content for multiple sectors. He is a Biochemistry major with sturdy backing in a PG diploma in digital marketing, helping in the exhaustive content creation based on extensive research and competitive marketing.