The Market Overview of Methanol and its Market Dynamics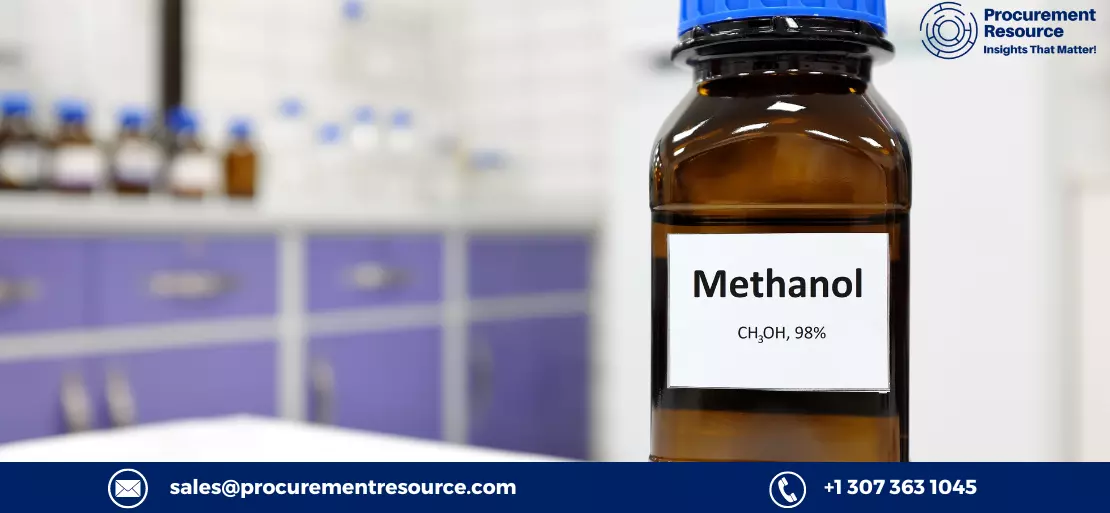 This blog provides an in-depth analysis of methanol and its industrial uses, key competitors, and pricing trends.
Methanol: Definition

Methanol is a complex compound in a long series of organic compounds. It comprises a methyl group connected to a hydroxy group. It is also known as methyl alcohol and is a colourless liquid in appearance.
The vapours of methanol are heavier than air and are highly soluble in water. It has a pungent smell like ethyl alcohol and is slightly sweet.
Request Access For Regular Price Update of Methanol
Methanol has a boiling point of 64.96 °F (148.93 °F) and a melting point of -97.6 °C. The molar mass of methanol is 32.04 g/mol, and its density is 792 kg/m³.
It appears to be solid at −93.9 °C (−137 °F). It is light, flammable, as well as poisonous in nature.
Methanol Industrial Applications
As a raw ingredient: As a feedstock for the synthesis of chemicals like formaldehyde and acetic acid, which are then used to make goods like foams, solvents, adhesives, windscreen washer fluid, and plywood subfloors, methanol is used in a wide range of chemical processes. Methanol is used as a solvent in research labs in the manufacturing industries. It is used to create formaldehyde, which is then used to create goods like plastic, paint, and explosives. It also acts as a solvent in the synthesis of hormones, cholesterol, streptomycin, and vitamins. Moreover, it is used in spray treatments for frosted door locks, car de-icers, and other icy places.
As an Antifreeze: It can be utilised as a key component of an antifreeze that prevents freezing in cleaning solutions because of the chemical features that allow it to lower the freezing point and raise the boiling point of a water-based liquid. Moreover, it inhibits the flow of natural gas through pipes, particularly in cold-weather facilities.
Automotive Industry: Methanol is frequently used as a fuel source in the automotive industry because of its high octane percentage, which increases the vehicle's efficiency while enhancing speed and power. Because of its various physical qualities, including being commercially feasible and meeting clean air law standards, it is also a perfect transportation fuel.
Methanol is used as a clean-burning energy:

The majority of the methanol is used for projects concerning energy. It functions as a liquid fuel that drives trucks, ships, vehicles, buses, and other types of transportation around the world.
Compared to other conventional fuels, the fuel is less expensive and clean-burning because it has the ability to reduce emissions from engines used in ships and cars, such as nitrogen oxides, sulphur oxides, and particulate matter. These emissions are what lower air quality.
It can help create a more sustainable society because it is produced on an industrial scale utilising fossil fuels like coal and natural gas and renewable resources like biomass, municipal trash, and recycled carbon dioxide.
Moreover, it is used to make dimethyl ether, a clean-burning fuel that can be combined with liquified petroleum gas or used as a substitute for diesel, as well as methyl tertiary butyl ether, a component of gasoline that aids in improving air quality.
Major Players in the Market of Methanol
Yankuang Group
Proman AG
Ar-Razi Saudi Methanol Co. (SABIC)
Sichuan Lutianhua Co., Ltd.
Zagros Petrochemical Co.
Methanex Corporation
Methanol: Price Trend and Forecast

North America
Due to weak market sentiments and limited buying activity in the region in recent months, methanol prices in North America fell in recent months.
The prices for methanol decreased with a fragile market attitude due to falling feedstock natural gas prices and rising gas storage volume in the production units. Customers started to acquire the product based on their needs as Methanol supplies increased among businesses.
The market for methanol and its derivatives is helped by the lagged values of energy and naphtha. Due to weaker demand for the additional stocks, methanol exports from the USA to South Korea and Europe also declined.
Asia Pacific
Currently, the price of methanol in China showed an upward trend, which was followed by an uncertain market outlook.
In recent months, unsteady regional demand prevented price increases from occurring for the entire month. With shaky trading activity, the downstream Formaldehyde and Formic Acid demand for methanol decreased.
Prices for methanol in India showed poor price trends, good product supply, and flimsy benchmark futures that slowed the price movement. The producers have to decrease their prices in response to the methanol shipments arriving from Venezuela and Iran in the coming weeks in order to prevent the creation of additional stocks.
Europe
The cost of methanol in Germany is currently lower than it was in the past. The producers continued to observe pretty large levels of inventory as they continued to trade methanol.
Read More About Methanol Production Cost Reports - REQUEST FREE SAMPLE COPY IN PDF
German methanol prices decreased as a result of the plentiful product supply and the bleak market outlook. Saudi Arabia continues to encounter difficulties while trying to export methanol to China as a result of sufficient product supplies among ports and downstream businesses.
The main driver of the price drop was still the potential effects of the recession in a setting with high energy prices. When it comes to the feedstock market, natural gas prices have been on the decline along with slow benchmark futures.
About Author:
Prakhar Panchbhaiya
Senior Content Writer at Procurement Resource
Prakhar Panchbhaiya is an accomplished content writer and market research analyst. With over 4 years of experience in content creation and market analysis encompassing many industries, including pharmaceuticals, nutraceuticals, biochemistry, healthcare, ed-tech, and Food & Agriculture, he has been creating quality content for multiple sectors. He is a Biochemistry major with sturdy backing in a PG diploma in digital marketing, helping in the exhaustive content creation based on extensive research and competitive marketing.