The Market Overview of Phenol and its Growing Demand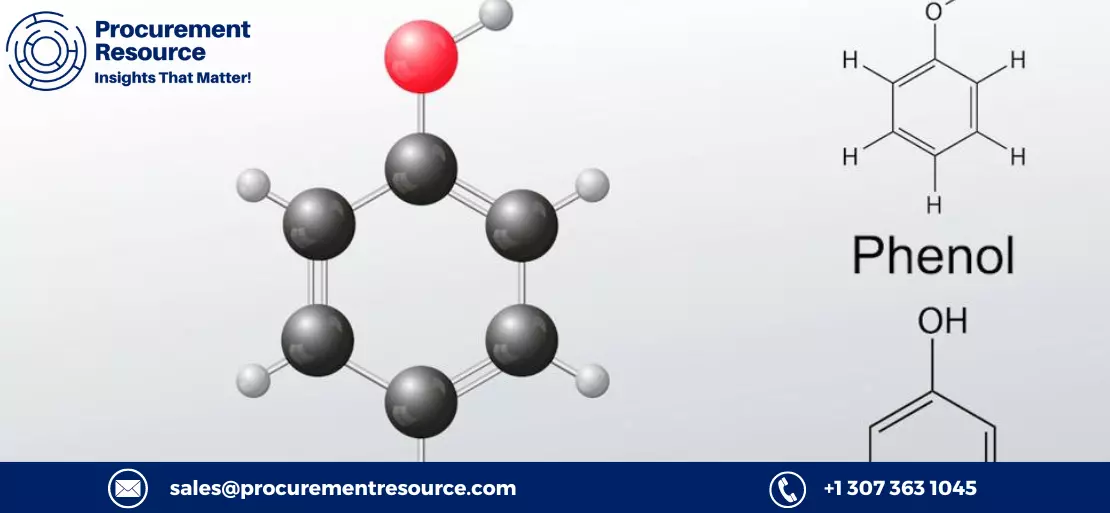 Phenol is a fragrant white crystalline solid (at room temperature owing to intermolecular bonds), which is also referred to as carbolic acid. The chemical formula of phenol is C6H5OH and is an aromatic organic compound. It is mildly acidic in nature. The hydroxyl group is found attached to the benzene ring in the chemical structure of phenol. Because it is a weak acid, it easily dissolves in water. It is a precursor for a variety of vital compounds including phenolic resins, bisphenol A, polycarbonates, epoxides, and aspirin.
Request Access For Regular Price Update of Phenol
The market is anticipated to be driven by rising demand from the chemical and pharmaceutical industries for phenol and phenol derivatives. Increased use of phenol as a raw material for various chemicals and derivatives will have a favourable effect on the market expansion. Phenol is also affordable and appealing to the consumer market, which will accelerate market growth.
This blog provides in-depth details about the production process of phenol, as well as regional prospects, pricing trends, market drivers, and key competitors.
Production Process

Phenol is produced using benzene, CG propylene, cumene, and toluene. Fundamentally, the process of producing phenol from toluene involves oxidation. Toluene is further processed to create benzoic acid as an intermediary in the synthesis of phenol, during the liquid-phase reaction.
Phenol Exporting Countries

The top phenol-exporting countries are Japan, South Korea, Chinese Taipei, the United States, and Germany. On the other hand, China, Belgium, and the Netherlands are the leading importing countries.
Market Drivers

The increased demand for alkyl phenols is what is driving the worldwide phenol business. Alkyl phenols currently make up 4.5% of all end-use applications worldwide. Alkyl phenols are properly used as building blocks for fragrances, fire-retardant materials, and thermoplastic elastomers as well as detergent precursors, fuel additives, and lubricant additives.
As a result of their downstream uses, it is also present in high-performance rubber products, coatings, glue, and tyres. Other significant factors driving an increase in phenol demand globally include the expansion of phenol's end-use sectors, growing urbanisation, shifting lifestyles, and an increase in disposable incomes.
Bisphenol A, which accounted for 47% of the industry share, is the dominant player in the end-use market of phenol. The phenol market is expanding due to strong demand from developing nations. The technological development in its production methods has given the phenol market's expansion additional impetus.
Because it is employed in fungicides and disinfectants, phenol is also in demand in industries including agriculture and animal husbandry. The phenol market is expanding due to the rising demand for phenol derivatives such as polycarbonate and epoxy resins in the automotive and construction industries.
Phenol Price Trend

North America
Due to poor cost support and insufficient demand from the downstream sectors, US phenol prices have been declining. The gone November saw a decline in crude oil, which left little upward pressure on prices. The downstream paints and coating industries' demand has been weak to stable, which has led to weak volume consumption. According to US PMI, which fell below in November 2022, signaling a decline in phenol production costs, manufacturing, and industrial operations. The weak demand dynamics for various goods were made worse.
Asia Pacific
The pattern of falling phenol prices in China has continued. The weak pricing in the domestic market was the result of moderate import prices, lowering freight costs, and stable to weak demand from downstream paints and coatings, and other related industries. The situation towards global demand has likewise been consistent. Market participants indicated high inventories despite low buyer confidence.
Europe
Due to a decline in consumption in the West and concerns about a European recession, the phenol market in Europe showed a slow trend, as evidenced by the market participants' reports of few inquiries from downstream consumers. This resulted in weak consumer sentiment.
Read More About Phenol Production Cost Reports - REQUEST FREE SAMPLE COPY IN PDF
While imports from the Asia-Pacific region have been plentiful, boosting the amount of material available on the German market, feedstock benzene costs have fallen in Europe as crude oil prices have fallen, relieving cost pressure. The availability of imports has grown, helped by a sharp drop in freight costs on European routes.
Key Players in the Market of Phenol
Ineos Phenol
Cepsa Quimica
Mitsui Chemicals
Formosa Chemicals and Fibers
Kumho P & B Chemicals
Honeywell International Inc.
Shell Chemical Co.
Solvay SA
Product price and market information from various industries are covered by Procurement Resource. Our team offers the most recent and precise market studies, cost models, benchmarking, and category insights to our clients. The team gives you the most recent data on the expenses related to manufacturing a range of goods and commodities.