The Market Overview of Salicylic Acid and its Growing Demand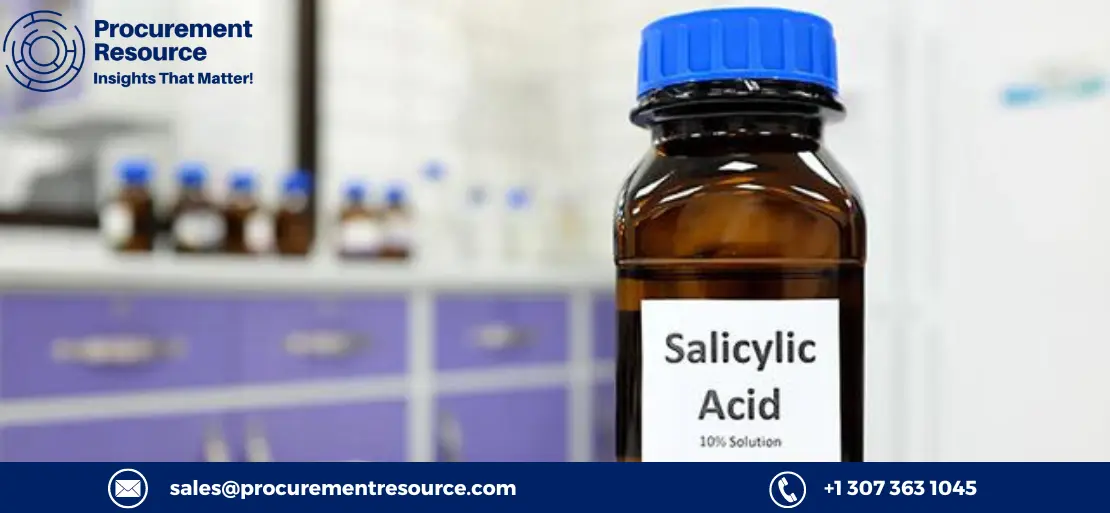 The blog comprises the definition, production process, and pricing analysis of Salicylic acid. It also covers market drivers and key players.
Salicylic acid is an organic compound and monohydroxybenzoic acid. The chemical formula of salicylic acid is C7H6O3 and its molar mass is 138.121 g/mol. The boiling point of salicylic acid is 211 °C. It is derived from the white willow bark and wintergreen leaves.
It is a plant metabolite, an inhibitor of L-ascorbate peroxidase, an algal metabolite, a plant hormone, and an anti-infective, keratolytic, and antifungal substance.
It is a crucial component that aids in the treatment and prevention of acne and skin problems. Additionally, it is used to treat ichthyoses, calluses, dandruff, corns, and warts on the hands and feet in addition to skin conditions including scaling or an overgrowth of skin cells in cases of psoriasis. The acid is a member of the keratolytic agent and salicylate medicine classes of pharmaceuticals.
Production Process of Salicylic Acid

Salicylic Acid production through Phenol and Sodium Hydroxide: Phenol, sodium hydroxide, carbon dioxide, and sulfuric acid are used in the manufacture of salicylic acid. Sodium phenolate is created during the process by reacting phenol with aqueous sodium hydroxide.
Request Access For Regular Price Update of Salicylic Acid
Salicylic Acid is ultimately produced after the solution is heated, evaporated, and then subjected to a series of chemical reactions involving carbon dioxide, sodium salicylate, and sulfuric acid.
Salicylic Acid Price Trend

North America
Salicylic Acid sales in the North American region fluctuated. Due to high manufacturing costs, numerous logistical challenges, and growing inflation, prices started to rise and kept on doing so until the second month of the fourth quarter. Growing transportation costs and port congestion at the key ports also helped to maintain the market position.
Furthermore, chaos and a slowdown in API output due to rising energy prices had a favourable effect on the market. Feedstock Phenol price increases led to an increase in salicylic acid pricing. Prices began to decline later in December as a result of falling inflation and decreasing end-user sector demand as the holiday season approached.
Asia Pacific
The salicylic acid market in the Asia Pacific region recently had an erratic growth pattern. It was observed that rising end-user sector demand, a number of logistical difficulties, and rising inflation would cause prices to rise. The strict zero covid regulations and frequent lockdowns in the Chinese regions have had an effect on the market.
Due to rising salicylic acid production cost driven by rising energy prices as well as increased domestic production to fill demands from both domestic and international markets, the market remained competitive. The salicylic acid market was also impacted by rising phenol feedstock prices. However, later in December salicylic acid prices did drop as a result of domestic shops having enough stock on hand.
Europe
Prices for salicylic acid fluctuated wildly in the European region. Salicylic acid demand in the pharmaceutical industry's downstream market was seen to remain steady. Price increases were caused by the supply chain being impacted by the continuous port congestion and supply disruption in the European region.
The trend of salicylic acid was also impacted by increased freight costs. Because of the impending Christmas season and the need to get ready for it, retailers in Europe decide to significantly restock their inventory. Due to growing feedstock phenol prices in the European region, the market situation remained tight.
Market Drivers

The pharmaceutical business is driving the salicylic acid market. The product's widespread industry use as an anti-microbial and anti-inflammatory agent is what primarily drives the demand for it on the market. Salicylic acid is an anti-microbial, making it useful as both an antiseptic and a disinfectant. This will increase its market share. It works well to reduce pain because of its anti-inflammatory characteristics.
Read More About Salicylic Acid Production Cost Reports - REQUEST FREE SAMPLE COPY IN PDF
The market for salicylic acid is also expanding due to the rising prevalence of skin infections and ailments like spondylitis, arthritis, and migraine. Additionally, the market will grow due to the rising prevalence of lifestyle disorders connected to joint and muscle pain.
Key Players in the Market of Salicylic Acid
Zhenjiang Gaopeng Pharmaceutical Co. Ltd
Seqens SAS,
Siddharth Carbochem Products Ltd.
JM Loveridge Limited
Salicylates Chemicals Pvt. Ltd.
Henan Haofei Chemical Co., Ltd.
Data, market research, and information on a range of product pricing are all provided by Procurement Resource. Users have access to current data from our staff as well as actual market research, cost models, benchmarking, and category analytics. The most updated prices for a variety of commodities are one of the main services provided by Procurement Resource. The dynamics of the market significantly rely on this pricing.