The Market Overview of Aluminium and its Increasing Demand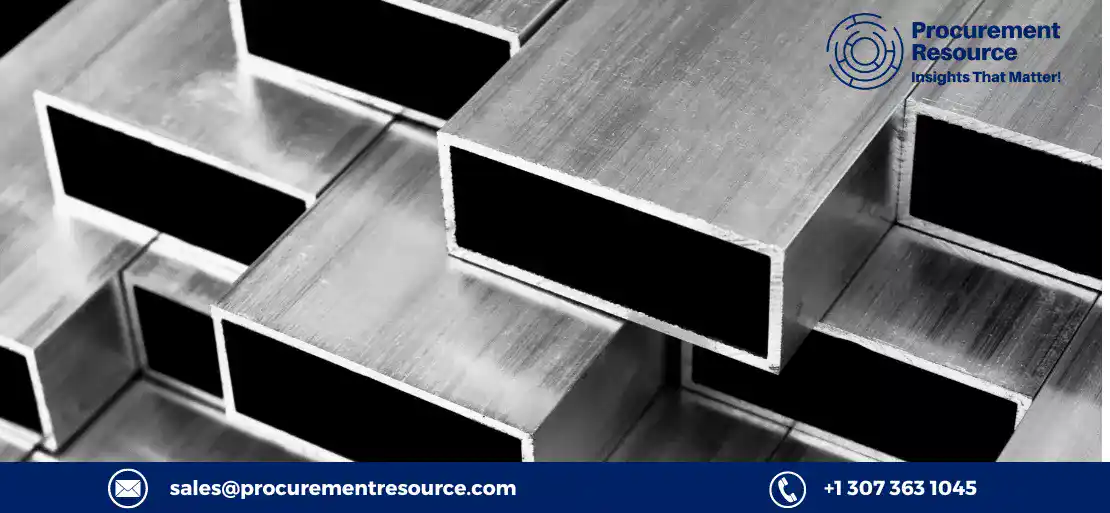 Aluminium: Definition

Aluminium (Al) is one of the most prevalent non-ferrous metallic elements in the crust of the Earth. It is strong, malleable, flexible, lightweight, and resistant to oxidation and corrosion. It possesses good electrical and thermal conductivity as well as great reflectivity. The atomic mass of aluminium is 26.98 amu and its atomic number is 13.
It is popular for use in a range of applications because it readily forms compounds with other chemical elements. For instance, wheels, motors, and other components of contemporary automobiles are composed of aluminium combined with silicon and magnesium. Additionally, it is also utilised to make refrigerators, PCs, tablets, smartphones, and other electrical devices.
Aluminium Price Trend

Aluminium Ingot

North America
Prices for Aluminium ingot Increased in the US markets as recessionary worries arose. Market experts claimed that aluminium smelters are now more heavily affected by falling energy costs than ever before. The ripple effect causes the aluminium smelters to increase their production costs, which has an impact on the price of aluminium.
Request Access For Regular Price Update of Aluminium
On the other hand, aluminium prices increased earlier in the session as a result of LME production reductions in response to rising energy costs, but they later fell victim to macroeconomic pressures as sluggish growth results in decreased demand for base metals, which are utilised in many industries. The price of industrial metal has been impacted by a number of factors, including weak global demand and rising interest rates.
Asia Pacific
Due to Changing demand and rising inventory levels, aluminium ingot prices in the Chinese market had a mixed trend. While the most current inventory number shows that stockpiles of aluminium ingots have stopped declining, confirming the impact of the seasonal low in July, market participants claim that the supply of aluminium ingots is still growing.
Base Metal prices were also under a lot of pressure as hawkish central banks damaged the outlook for manufacturing and building activity globally.
Chinese smelters increased output at the same time as manufacturers started operating again with more capacity after covid lockdowns. Domestically, Sichuan suffered a loss of about 1 million mt in aluminium production as a result of extreme heat and a lack of rain. Hence, it also impacted aluminium production cost.
Europe
Due to the optimistic demand outlook in the European region, aluminium ingot prices increased. According to the market participants, despite rapidly rising energy prices, production activity decreased in the European Market. Overall, recent restrictions on aluminium production have caused a decrease in availability.
However, demand will continue to be weak in the long term, and aluminium prices will face downward pressure once production resumes in the future. Traders should beware of the market concerns about a possible increase in aluminium prices in the short term. Norsk Hydro revealed its intention to halt the operation of an aluminium smelter in the middle of August.
Aluminum Wire

Asia Pacific
Aluminium Wire cost valuations in Japan showed an increasing trend despite a pessimistic demand outlook. The tradeable volume is limited, and there is little inducement to ship to Japan, as per market experts. Japanese distributors and distributors are uncertain to buy metal.
There is a sizable volume in Japan and suppliers work to reduce inventory levels in Asia, notably in Japan, market players remained negative despite the announcement of the smelter curtailments in Europe and were more concerned about forwarding demand. While the orders are increased, manufacturers' assets that inflation is beginning to sting and that would affect the downstream industries.
Europe
Due to a weak spot in demand and an overabundance of imported goods, aluminium wire prices saw a sliding movement. Market experts are worried about the overall availability of aluminium as LME storage stocks keep decreasing. They claimed that while trying to acquire units from different places, logistics problems arose.
North America
Despite weak spot demand, aluminium wire prices in the North American market showed a growing trend. Aluminium prices increased on August 2022 and September 2022 as investors worried that disruptions brought on by high energy costs or other factors might result in shortages. Participants in the market are noticing output declines in Europe as a result of the high energy intensity of base metal manufacturing.
Read More About Aluminium Production Cost Reports - REQUEST FREE SAMPLE COPY IN PDF
The buyers claim that upstream aluminium prices are on the verge of bottoming out. The cost of aluminium products has decreased, according to secondary aluminium alloy makers who purchase primary aluminium, as a result of a general downturn in the US aluminium market.
Key Players in the Market of Aluminium
Rio Tinto plc
United Company Rusal Plc
American Elements
PT Timah (Persero) Tbk
Aluminum Corporation of China Limited (CHALCO)
Alcoa World Alumina
Chemicals ("AWAC") (Alumina Ltd)
About Author:
Prakhar Panchbhaiya
Senior Content Writer at Procurement Resource
Prakhar Panchbhaiya is an accomplished content writer and market research analyst. With over 4 years of experience in content creation and market analysis encompassing many industries, including pharmaceuticals, nutraceuticals, biochemistry, healthcare, ed-tech, and Food & Agriculture, he has been creating quality content for multiple sectors. He is a Biochemistry major with sturdy backing in a PG diploma in digital marketing, helping in the exhaustive content creation based on extensive research and competitive marketing.