The Market Overview of Liquefied Petroleum Gas and its Demand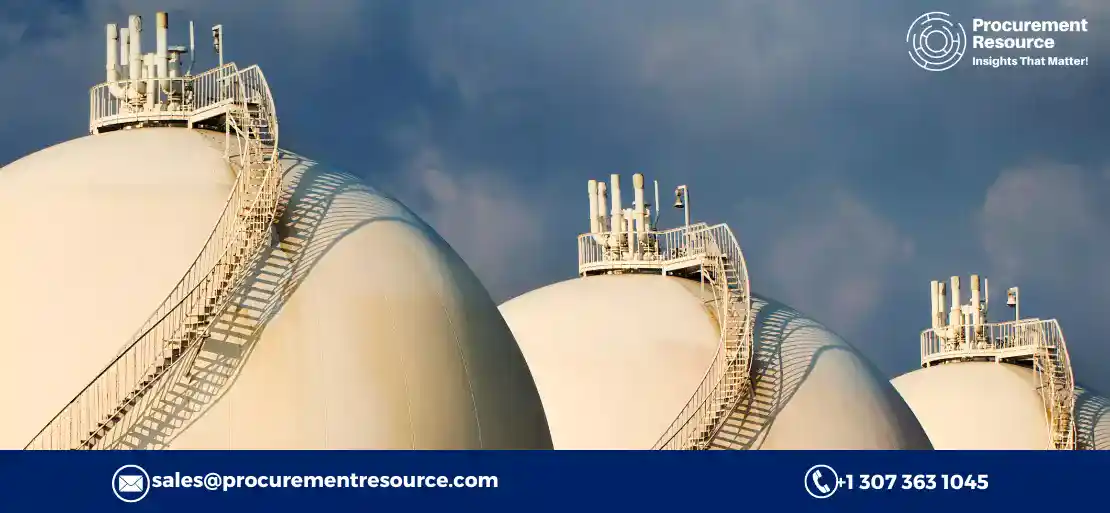 Combinations of hydrocarbon gases make up liquefied petroleum gas (LPG). It is a highly flammable gas produced commercially mostly from butane and propane derived from fossil fuels. For easy storage and transportation, it can also be liquefied via pressurisation (without requiring cryogenic refrigeration).
Request Access For Regular Price Update of Liquified Petroleum Gas
Its high caloric content and heating properties make it an ideal energy source since it quickly produces a lot of heat. Additionally, it is a flame-retardant chemical and is frequently offered in gas cylinders as it is practical, transportable, and easy to store.
How is LPG Produced?
From Crude Oil: Through a gas trap, the obtained crude oil is separated into wet gas and oil. After that, the compounds are divided at various temperatures by the fractional distillation process. Liquefied petroleum gas is the end result when the petroleum gas has evaporated below 110°C, been cooled, and been divided into sections.
Read More About Liquified Petroleum Gas Production Cost Reports - REQUEST FREE SAMPLE COPY IN PDF
From Natural Gas: The crude oil collected from the oil wells using this approach is put through a gas trap and separated into oil and wet gas. The wet gas is piped to a plant that absorbs gasoline and pumps it there using an absorbing oil. The oil is afterward removed from the mixture to create wild gasoline, which is then further segregated into liquid gasoline and LPG.
LPG Price Trend and Forecast

North America
In the recent times, the cost of liquefied petroleum gas (LPG) in the US market continued to drop. The US's import rates decreased as a result of the significant growth in domestic LPG supply, and the US is now one of the top exporters of LPG in the world. The US's weak domestic demand for agricultural and household heating further reduced the cost of LPG. Despite the Asian market's interest in US exports because of their low price, it doesn't appear that this will have any impact on local LPG prices in 2022.
APAC
Due to the plentiful supply of upstream crude oil from Russia, LPG prices in India decreased steadily. Due to the low cost of naphtha in Asian countries, industrial crackers in India preferred using naphtha as a feedstock, which reduced the need for LPG in the Indian market. The consistent supply of upstream crude oil from Russia helped to drive down LPG costs in China, but the demand increases at the end of the quarter because the mid-autumn festival drove up prices and LPG production cost in September.
Europe
In Europe, prices began to trend downward at the beginning. The import of Russian gas has been replaced by another source for Europe. The prices of LPG in Europe have decreased due to the steady supply coming from the Middle East and Northern African nations. Strong LNG inventory levels of competing energy sources also reduced LNG demand. Due to rising LNG demand in Asian markets, which also led to an increase in LPG demand in Europe.
Market Drivers

The main industrial applications for LPG are for cooking in homes or as a fuel for culinary appliances. Additionally, it serves as an Autogas in vehicles. It is increasingly being used as a refrigerant and an aerosol propellant. Because it is safer for the environment and ozone layer than chlorofluorocarbons (CFCs), it is increasingly replacing CFCs. Additionally, it is essential for applications in business, industry, horticulture, agriculture, and manufacturing.
Recent Development
February 2022: To fulfill the region's rising demand, Indian Oil Corp. (IOC) stated that it will build three new plants in Northeast India, increasing its capacity to bottle LPG by roughly 53%, or to 8 crore cylinders annually, by 2030. Between INR 325 and 350 crore would likely be invested overall in the plant expansion.
January 2022: The building of Ardova PLC's liquefied petroleum gas (LPG) storage facility in Nigeria was announced. With a combined storage capacity of 20,000 metric tonnes, the LPG facility is anticipated to start by December 2022.
March 2021: An agreement was reached by the Abu Dhabi National Oil Corporation (ADNOC) to deliver sulphur and liquefied petroleum gas to Pertamina, the national oil company of Indonesia, over a four-year period for around USD 2 billion. The LPG and sulphur sales deal, a component of Indonesia-Emirates' "Amazing Week 2021," will be for four years and have an estimated contract value of USD 500 million per year. The agreement further stipulated that the sum could alter if the cost of these items fluctuates on the international market.
Key Players
Gazprom PAO
Royal Dutch Shell Plc
Exxon Mobil Corporation
Total SA
BP Plc
About Author:
Prakhar Panchbhaiya
Senior Content Writer at Procurement Resource
Prakhar Panchbhaiya is an accomplished content writer and market research analyst. With over 4 years of experience in content creation and market analysis encompassing many industries, including pharmaceuticals, nutraceuticals, biochemistry, healthcare, ed-tech, and Food & Agriculture, he has been creating quality content for multiple sectors. He is a Biochemistry major with sturdy backing in a PG diploma in digital marketing, helping in the exhaustive content creation based on extensive research and competitive marketing.