Vitamin E with Focus on its Various Health Benefits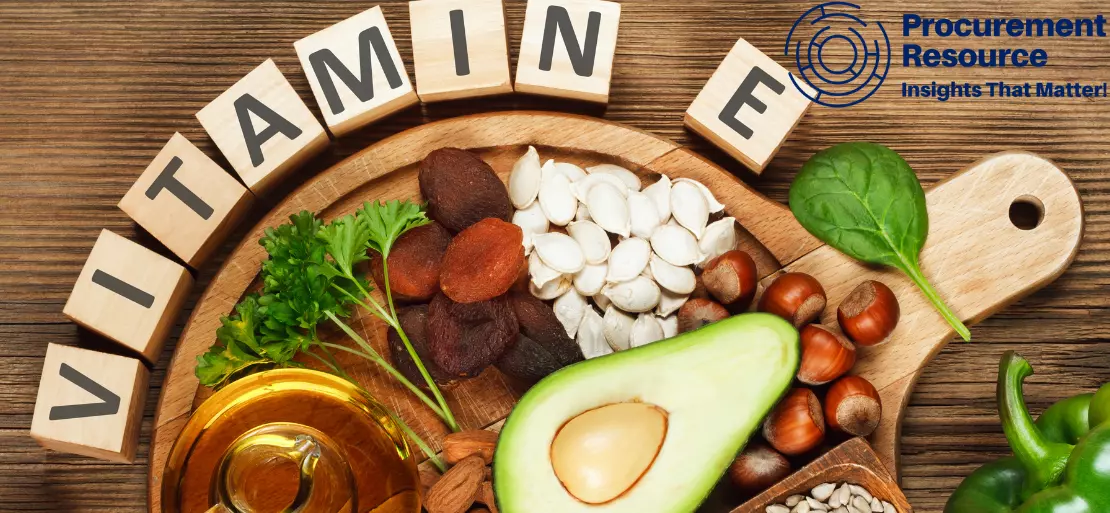 A group of four tocopherols and four tocotrienols are amongst the eight fat-soluble components that build up Vitamin E. It is a type of fat-soluble antioxidant that aids in the protection of cell membranes against reactive oxygen species. It is a nutrient that the body requires in tiny quantities to remain healthful and function properly. It can be found in food products such as seeds, nuts, green vegetables, and vegetable oils and can also be included in the diet as a supplement.
Vitamin E is derived from Photosynthesizing plants like cyanobacteria and algae, which synthesize tocochromanols, the group of chemicals comprising four tocotrienols and four tocopherols. Biosynthesis begins with forming a closed-ring part of the molecule as homogentisic acid (HGA) and occurs in the plastids.
Request Access For Regular Price Update of Vitamin E
Vitamin E can help improve the immune system and prevent blood clot formation. It can also assist in preventing cell destruction triggered by free radicals (extremely volatile substances). It can minimise the risk of developing oxidative stress (which can lead to cellular damage and increased disease risk) by improving antioxidant defences.
Vitamin E can help reduce the risk of heart disease and blood pressure. It can help in some respects with health disorders like non-alcoholic fatty liver disease (NAFLD) as it can lessen the number of liver enzymes alanine aminotransferase (ATL); aspartate aminotransferase (AST) blood lipid levels and improve overall liver health. It can also ease menstrual pain, like cramps etc.
Other health benefits of its consumption include good skin health and aid in skin disorders such as eczema; it can also benefit cognitive health and help people with conditions like Alzheimer's disease; it plays a crucial role in lessening inflammation and improving immune functions in the elderly, it can also assist in improving lung function and ease symptoms of asthma in children and adults.
Read More About Vitamin E Production Cost Reports - REQUEST FREE SAMPLE COPY IN PDF
The aggressive branding and promotional activities to spread awareness regarding the importance of Vitamin E are driving up its demand. The ease of availability of the product further enhances demand. The new scopes of the product in end-user industries, like dietary supplements, cosmetics, animal feed, etc., are likely to create market opportunities in the future.
The rise of the e-commerce sector and the convenience of online shopping, paired with an increase in the number of distribution channels, further boosts sales in the industry.
BASF leads the production of synthetic vitamin E. They have an experience of more than four decades, enabling them to develop science-based, high-quality products with best-in-class dispersion and flowability properties. Their vitamin E finds application in several industries, including food and beverage, dietary supplement, and infant nutrition.
Archer Daniels Midland Company's plant-based Natural-Source Vitamin E is crafted for clients wanting to abide by the U.S. Food and Drug Administration's labelling regulations.
Prinova introduced an e-commerce website in June 2021 in order to improve the purchasing of ingredients in the United States. The website provides the finest quality amino acids and food-grade vitamins while aiming to supply B2B vitamin distribution solutions globally.
About Author:
Prakhar Panchbhaiya
Senior Content Writer at Procurement Resource
Prakhar Panchbhaiya is an accomplished content writer and market research analyst. With over 4 years of experience in content creation and market analysis encompassing many industries, including pharmaceuticals, nutraceuticals, biochemistry, healthcare, ed-tech, and Food & Agriculture, he has been creating quality content for multiple sectors. He is a Biochemistry major with sturdy backing in a PG diploma in digital marketing, helping in the exhaustive content creation based on extensive research and competitive marketing.