LyondellBasell Restarts 460 KTPA Ethylene Cracker Units in Southern France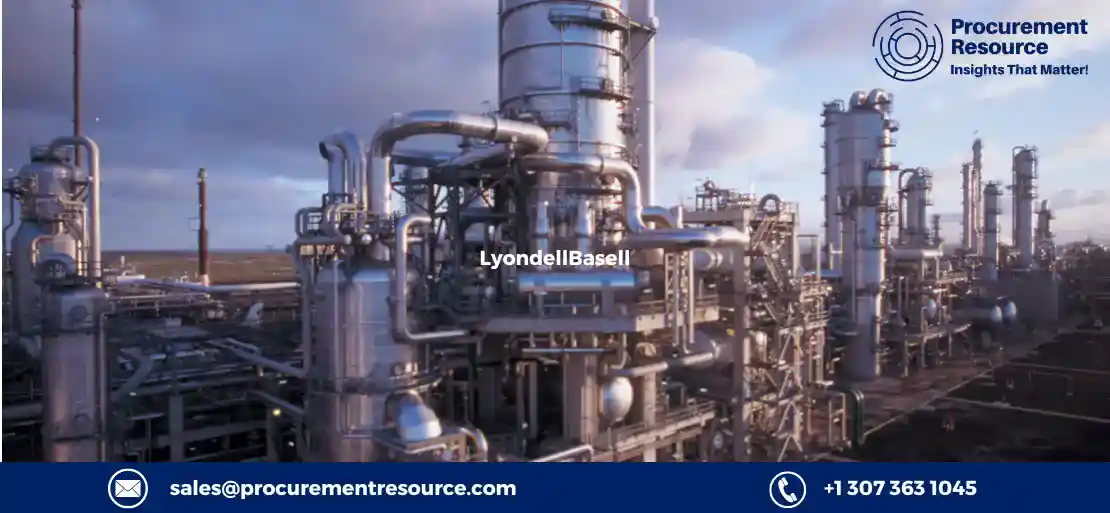 At its integrated olefins and polyolefins production facility at Berre, France, LyondellBasell reported the ethylene cracker is not to be restarted until early 2023.
On August 2, 2022, a fire at the chemical company's French ethylene cracker caused damage. Although repairs should be finished by November, the decision to postpone the restart was made in part due to the region's continually high energy costs, narrowing profit margins, and dwindling product demand.
Request Access For Regular Price Update of Ethylene
LyondellBasell is now restarting units at its Berre-l'Étang plant in southern France as per what a company representative told OPIS. The spokesman stated that the restart procedure for all of their units at their Berre-L'Etang facility started this week and is currently ongoing without identifying specific units impacted.
Despite being damaged by the fire, LyondellBasell's 450,000 metric ton/year Berre-l'Étang ethylene cracker is anticipated to start up again sooner than anticipated.

Since the Netherlands-based chemicals giant announced in its third quarter report that the restart of its cracker in France would be delayed until early 2023 due to high energy costs, reduced margins, and declining demand in the region, the company may be worried about losing market share during a prolonged outage.
The decision to restart earlier than anticipated may have been influenced by forecasts for higher demand in January, according to Matthew Theelke, Executive Director of olefins, EMEA at Chemical Market Analytics by OPIS, a Dow Jones subsidiary.
According to company records, LyondellBasell manufactures ethylene, propylene, butadiene, and polypropylene at the 1,000-hectare Berre plant. At the same facility, low-density polyethylene is also produced.
About LyondellBasell

Founded in the Netherlands, LyondellBasell Industries N.V. is a multinational chemical corporation with offices in Houston, Texas, and London, the United Kingdom, as well as operations throughout the United States. It is the firm that licences polyethylene and polypropylene technologies. In addition, it makes oxyfuels, polyolefins, ethylene, and propylene.

In December 2007, Basell Polyolefins purchased Lyondell Chemical Company for USD 12.7 billion, resulting in the creation of LyondellBasell. Lyondell ranked third among independent chemical producers in the U.S. as of 2016.
What is steam cracking?

Saturated hydrocarbons are broken down into smaller, frequently unsaturated hydrocarbons by the petrochemical process known as steam cracking. The process is the primary commercial method for manufacturing lighter olefins, such as ethene (or ethylene) and propene (or propylene). A feedstock, such as naphtha, liquefied petroleum gas (LPG), ethane, propane, or butane, is thermally cracked using steam in steam-cracking furnaces to generate lighter hydrocarbons in steam cracker units. There are a variety of commercial methods that can be used to carry out the propane dehydrogenation process. The reactor design, the catalyst used, and the methods used to attain better conversion rates are the key areas of distinction between them.
Price Trends of Ethylene in the USA For Q3 2022

The third quarter of 2022 saw a decline in ethylene pricing in the US market as a result of low feedstock Naphtha prices, high inventories, and weak downstream demand. The demand from the downstream Polyethylene and Glycol value chain has been tempered by predictions of a recession in the USA market.
The demand for PE and PP has remained low throughout the Quarter due to the feeble performance of the packaging industry during Q3. The regional market's cost of producing ethylene has decreased as a result of the downturn in upstream natural gas prices. Additionally, huge inventories of unsold goods have been reported by downstream market participants, which has led to a less expensive spot market for ethylene on the domestic market.
Read More About Ethylene Production Cost Reports - REQUEST FREE SAMPLE COPY IN PDF
As per Procurement Resource, the ethylene cracker will be reactivated in early 2023 at its integrated olefins and polyolefins production complex in Berre, France. The French ethylene cracker owned by the chemical firm was damaged on August 2, 2022. Even though repairs should be finished by November, the decision to delay the restart was partly taken because of the area's persistently high energy prices, declining profit margins, and declining product demand.