Motiva Enterprises Restarts Crude Distillation Unit with a Capacity of 0.63 million Barrels per Day at Port Arthur Texas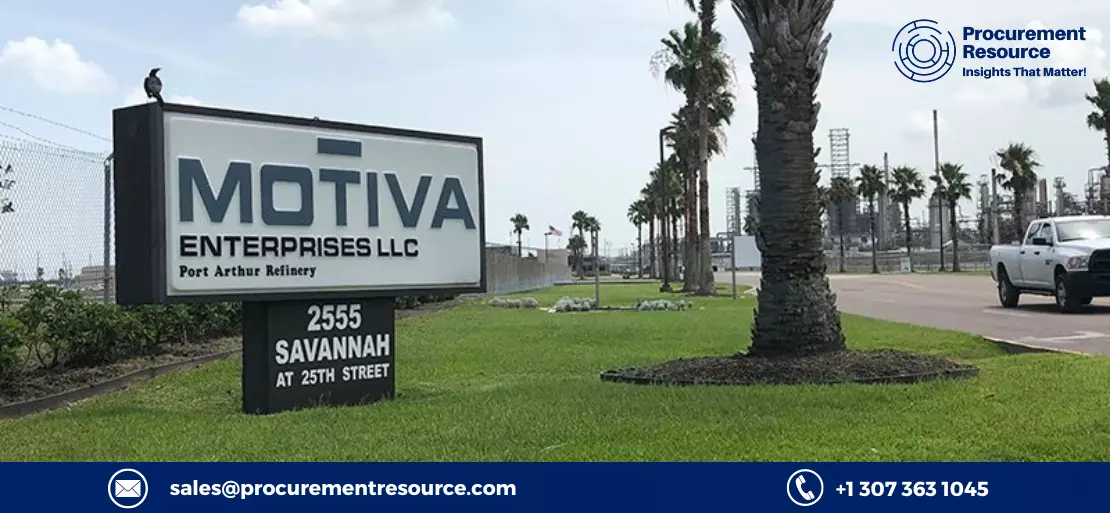 The Crude Distillation Unit at Port Arthur, Texas, was reactivated by Motiva Enterprises with a capacity of 0.63 million barrels per day. The nation's largest refinery, Port Arthur, is poised to increase fuel output after Motiva Enterprises, the refinery's owner, pushed this week to restart units at the 630,000-bpd refinery following planned maintenance that lasted more than a month.
Conventional gasoline, commercial aviation fuel, ultra-low sulphur diesel, export (high cetane) diesel, and Texas low emissions diesel are all produced by the Port Arthur Refinery, which is also the biggest refinery in North America. According to Motiva Enterprises, the refinery normally produces 40,000 barrels of base oil daily and 275,000 barrels of branded fuel daily.
On September 30, 2022, the large 200,000-bpd crude distillation unit (CDU) at the refinery started undergoing a planned overhaul. The maintenance was scheduled to end in November. On November 8, Motiva Enterprises started up that unit.
The CDU, the 49,000-bpd catalytic reformer 4 (CRU-4), and the lube oil hydrocracker 4 (LHCU-4) have all been restarted after being shut down for maintenance. Diesel and other distillate inventories in the United States are at multi-year lows and are about 20% below the five-year average at this point in the year. This autumn, a few refineries were undergoing maintenance, which decreased the selection of goods.
In the United States diesel and other distillate inventories are at multi-year lows and sitting at around 20% below the five-year average for this time of the year. Certain plants and refineries were under upkeep and maintenance processes this autumn, lowering the accessibility and disposal of products.
In the third quarter, American refineries ran at high-capacity rates. The biggest American refiners continued to report record profits for Q3 despite a decline in refining margins in recent months. This was made possible by cheaper sour crude grades and lower natural gas prices in the United States than in Europe.
When the Organization of the Petroleum Exporting Countries and its partners revealed plans to lower the OPEC+ production target by 2 million barrels per day, prices fell following a weeks-long rise. By the end of December, President Joe Biden intends to sell the final 180 million barrels of crude oil from the country's strategic petroleum reserves.
Biden's Democrats think the move would help the party hold slim majorities in both houses of Congress in November's midterm elections. Not all prices are lowering. Due to high worldwide demand, low inventory levels, and limited output in Europe as a result of refinery strikes in France, U.S. diesel prices have increased during the previous two weeks.
The national average is at USD 3.85 per gallon, down from highs hit two weeks ago but up 18 cents from its mid-September lows of USD 3.67 per gallon. According to data from the U.S. Energy Information Administration, the price of diesel has increased 33 cents in the last month and is currently USD 5.32 per gallon.
According to federal statistics, the United States utilizes around 9 million barrels of gasoline daily and about 3 million barrels of diesel. Even as cold weather sets in, which typically coincides with a decline in gasoline demand, United States oil refineries are working tirelessly to refill low stocks. While refinery utilization is 5% greater than at this time last year, the four-week moving average of gasoline demand is 2.4% lower.
United States gasoline prices rose earlier this year, peaking in June, following western sanctions on Russian energy products and lower global refinery capacity after pandemic-related closures.
As per Procurement Resource, Motiva Enterprises, the Crude Distillation Unit at Port Arthur, Texas, was restarted with an output of 0.63 million barrels per day. This unit had a planned overhaul in September 2022.