Regional Price Overview
Get the latest insights on price movement and trends analysis of Hydrogen in different regions across the world (Asia, Europe, North America, Latin America, and the Middle East & Africa).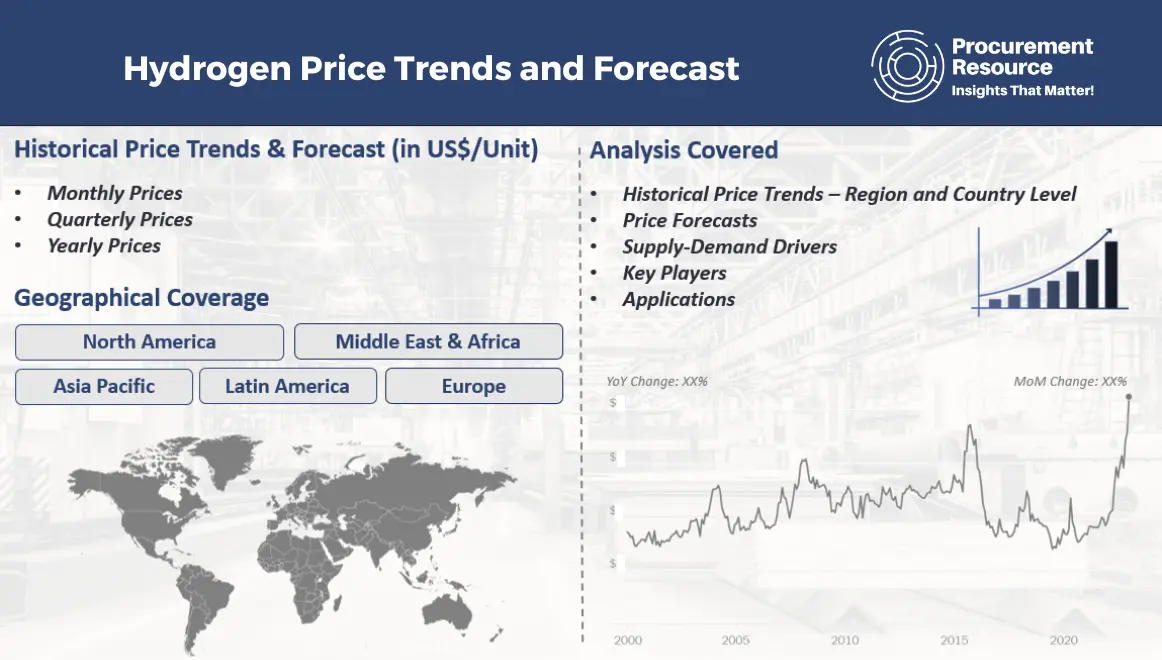 Hydrogen Price Trends for the Second Half of 2022
Asia
In H2 2022 Hydrogen market in the Asian region had a good start. Good downstream demand kept the hydrogen price prospects elevated. After an initial rise, the hydrogen price trends turned volatile considering the fluctuations in market demand, petrochemical prices, and government-mandated norms. Even with a strong hoarding sentiment during the holiday season in Q4, downstream demand remained stagnant, thereby keeping the price trends for hydrogen on the lower end of the scale.
Europe
Europe witnessed major economic turmoil in 2022 owing to the current Russia-Ukraine conflict. With the Western sanctions on Russian exports, the gas prices took an unprecedented high impacting the hydrogen market directly. But as the year-end approached the supply remained sufficient but the demand dynamics fluctuated with the hydrogen market recording a declining trends with occasional fluctuations.
North America
Hydrogen price trends for the North American market resembled those of the European market for H2 2022. Rising demand and higher energy prices pushed the market reasonably up. But as the energy prices normalized in the last quarter the hydrogen prices too started declining. Overall, demand and supply dynamics stabilized further, and the hydrogen market remained afloat.
Analyst insight
According to Procurement Resource, as the supply chains are normalizing, and energy security is being ensured hydrogen prices are expected to fall further and the declining trends seems to continue for the next quarter as well.
Hydrogen Price Trends For the First Half of 2022
The price trends for Hydrogen soared globally throughout the said period. Hydrogen is not immune to the inflationary pressure the other energy sources felt throughout the year's first fast as an aftermath of surging crude oil and gas prices. In the US, the cost of electrolytic Hydrogen shot up to 16.80 USD/kg due to the high-cost inflation triggered by the energy crisis. However, commercially most of the Hydrogen is still produced from natural gas.
Conventional Hydrogen, also known as grey hydrogen, averaged 10 USD/kg during the said period. The hydrogen producers faced a double whammy of high natural gas prices and staggering electricity prices, which affected their profit margins. Hence, in order to protect the profit margins, the high operating costs were passed to the consumers, thereby inflating the price trends for Hydrogen globally.
Procurement Resource provides latest prices of Hydrogen. Each price database is tied to a user-friendly graphing tool dating back to 2014, which provides a range of functionalities: configuration of price series over user defined time period; comparison of product movements across countries; customisation of price currencies and unit; extraction of price data as excel files to be used offline.