Galvanized Sheet Market with Stress on the Recent Indian Electro-Galvanized Steel Import Duties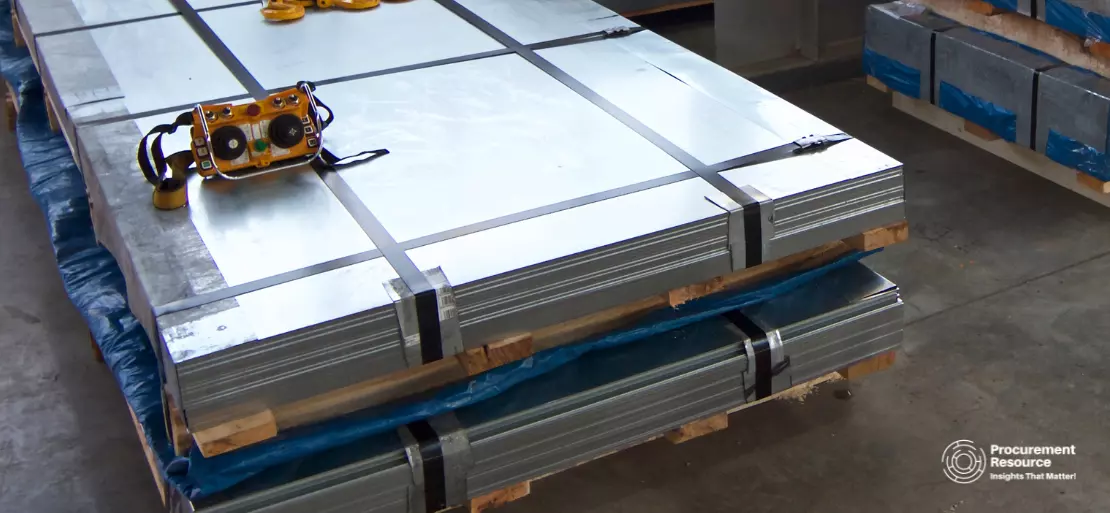 Galvanized Sheets are typical steel sheets employed in the manufacturing industry that are coated in zinc so that they are resistant to corrosion. The process of applying zinc coating on the steel structure is known as galvanisation.
Standard steel sheets can rust if exposed to humidity or moisture leading to product malfunctioning. Galvanised steel, on the other hand, offers longer durability, high strength, and formability of steel along with anti-corrosion properties.
When iron or steel is dipped in a molten zinc liquid by hot-dip galvanising process to procure a several distinct layered glaze of zinc-iron alloy and zinc metal that is corrosion resistant, it is called as galvanising.
Request Access For Regular Price Update of Cold-rolled Galvanized Sheet
A metallurgical result appears amongst the iron in the molten zinc and steel even as the steel is submerged in the zinc. The following reaction is known as a diffusion process as the layering creates a vertical to all surfaces developing in a consistent width. The standard method includes three primary steps, surface preparation, galvanising, and post-treatment.
The commodity finds application in the wind and solar industries as solar projects are required to work continuously after the installation, as any maintenance or repair breaks will lead to revenue loss.
Due to the property of galvanised sheets being corrosion resistant, they are in high demand in solar projects. As it does not lead to emissions and has less to no maintenance requirement, it is gaining popularity for its sustainability.
In the automobile sector, installing zinc-coated bodies in automobiles is gaining popularity in auto manufacturing. A large portion of the car body is made of galvanized steel, guarantying anti-rust warranties to buyers, and furthering the market potential.
In commercial and residential construction end-uses, galvanized steel's durability is gaining prevalence, and the product's shiny aesthetic provides a modern edge to designs furthering its use.
Read More About Galvanized Sheet Production Cost Reports - REQUEST FREE SAMPLE COPY IN PDF
In the Telecommunications sector, the maintenance of phone lines is challenging due to the fact that hot-galvanised steel is used on phone wiring and equipment boxes, leading to minimised risk of deterioration and maintenance needs.
Galvanized steel sheet metals are increasingly used in manufacturing several metal fittings like nuts, nails, and bolts. These parts are employed in other applications to support different metal fixtures. These parts provide properties like durability, oxidation prevention, etc., for further market development.
Recently, the India Directorate General of Trade Remedies (DGTR) suggested enforcing antidumping (AD) duties for electro-galvanized steel imported from Singapore, Japan, and South Korea, excluding inward shipments of the commodity from certain steel firms.
The suggestion by DGTR will be revised by the department of revenue managed by the ministry of finance in place for approving such decisions. A formal statement will lead to implementing the AD levy on imports of flat cold and hot rolled products.
The electro-galvanized steel imports coming from South Korea will draw an AD duty of USD 16.05/mt, excluding Dongkuk Steel, K Dongshin, Hyundai Steel, and POSCO manufactured products that will have a zero rate. Japan imports will have a USD 64.08/mt tariff, excluding Nippon Steel products with zero tax. The duty on Singapore imports will be USD 79.73/mt.
About Author:
Prakhar Panchbhaiya
Senior Content Writer at Procurement Resource
Prakhar Panchbhaiya is an accomplished content writer and market research analyst. With over 4 years of experience in content creation and market analysis encompassing many industries, including pharmaceuticals, nutraceuticals, biochemistry, healthcare, ed-tech, and Food & Agriculture, he has been creating quality content for multiple sectors. He is a Biochemistry major with sturdy backing in a PG diploma in digital marketing, helping in the exhaustive content creation based on extensive research and competitive marketing.