The Increasing Demand for Nickel and its Market Dynamics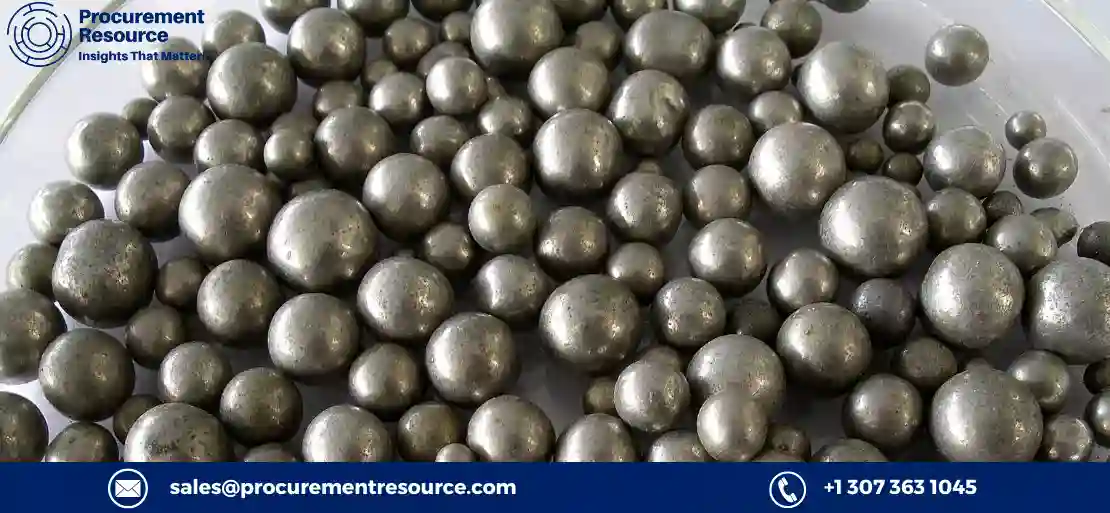 The blog comprises nickel definition, market demand, production process, pricing trends and recent developments.
Nickel: Definition and Market Demand
Nickel is a transition metal. The element has an atomic mass of 58.693 g/mol and its atomic number is 28. It has a density of 8.90 (g/cm3). It is solid at 20 degrees Celsius.
It is a metallic alloy with a silvery appearance that resists corrosion even at high temperatures. It is hard, malleable, ductile, and is a good heat and electrical conductor, among many other qualities.
Request Access For Regular Price Update of Nickel
Wires and coins are both made largely of nickel. It is used to prevent corrosion in high-temperature gas turbines and rocket engines. Moreover, it is used to create a variety of alloys, such as stainless steel, which are then utilised to create pipes, nails, and armour plating. It can be formed into wire and is also present in batteries, such as nickel-metal hydride and rechargeable nickel-cadmium batteries. Furthermore, nickel that has been finely split serves as a catalyst for hydrogenating vegetable oils.
Nickel Production Cost Analysis
From Sulphide Ore: Sulfidic ore is used to make nickel and is heated in an oxygen-containing furnace before being processed. Smelting ore produces around 45% of the nickel that is globally produced. In this process, oxygen is introduced to completely eradicate all remnants of iron and sulphur. The fluid bed roasting method is used to refine nickel matte to provide 95% purity.
From Lateritic Ore: The lateritic ores are used to produce nickel. Nickel is mined using extractive metallurgy from these ores. The roasting technique, which eliminates moisture, is used for extraction. The reduction furnace then burns off chemically bonded water and nickel oxide. Using the fluid bed roasting method, nickel matte with a purity of 95% is finally refined.
Key Players
Umicore N.V
American Elements
Vale S.A.
MMC Norilsk Nickel PJSC
Jinchuan Group International Resources Co. Ltd
Glencore plc
PT Timah (Persero) Tbk
Nickel Price Trend
North America
In the US market, nickel prices recently showed a miscellaneous pattern amid mounting recession fears. The LME three-month nickel price remained stressed, according to the major market participants, and trading activity was comparably stable.
According to producers, the current prognosis for demand remained unchanged; they continued to get customer requests for nickel in the ensuing time. However, the market environment was very unstable at the time, and people were unwilling to commit for very long. Even while there had been sporadic reductions in steel output for a while, announcements of closures and rumours of additional suspensions hadn't yet shocked nickel markets.
There was a decline as a result of some mills taking a break, although this was not due to demand but rather to the cost of power. According to dealers, it might be difficult to predict where nickel premiums and prices will go in the market.
Asia Pacific
Recently, nickel prices in the Chinese market saw a mixed trend due to rising interest rates and a strong US dollar index. The Fed's strict monetary policy is putting pressure on nonferrous metal prices. Also, the plants had earlier accumulated expensive nickel ore stocks; as a result, they had to reduce production to avoid losses.
In contrast, nickel prices were significantly impacted by the macro environment and the fundamentals were weak, therefore it is anticipated that the prices would continue to fluctuate. Weak demand and rising inventories led to nickel prices gaining insufficient underlying support. Despite a modest rebound in spot premiums, spot trading dramatically improved.
Europe
Despite rising energy prices, nickel prices in the European market had a mixed pricing pattern. Despite expected seasonality, nickel prices recently decreased, according to industry players. The stainless-steel industry's demand for nickel remained weak and sluggish on a global scale because of the rising prices of raw materials and the current state of the economy.
The latter include energy and maritime freight charges that are at all-time highs. Although rapidly rising energy costs forced some steel mills in Europe, including those in the stainless sector, to temporarily reduce production, the nickel market participants began to anticipate future reductions.
As a result, the market remained extremely volatile while downstream nickel demand remained largely stable.
Recent Development in the Industry
A UK regulator started looking into the LME Nickel Trade Halt.
After the London Metal Exchange's decision to cease nickel trading last year, a British financial supervisory body disclosed the results of its initial inquiry into a UK exchange about possible malfeasance.
Read More About Nickel Production Cost Reports - REQUEST FREE SAMPLE COPY IN PDF
It was not known, however, if the probe would delve into the contentious decision made by the exchange to invalidate trades worth billions of dollars.
Following erratic price movement in March of last year, the biggest and oldest metals market in the world rejected all trading activity and halted trading for the first time since 1988.
The suspension happened when the prices in a wave of sources accused of short-covering by the top producer in the world increased to over USD 100,000 per tonne in a matter of hours.
About Author:
Prakhar Panchbhaiya
Senior Content Writer at Procurement Resource
Prakhar Panchbhaiya is an accomplished content writer and market research analyst. With over 4 years of experience in content creation and market analysis encompassing many industries, including pharmaceuticals, nutraceuticals, biochemistry, healthcare, ed-tech, and Food & Agriculture, he has been creating quality content for multiple sectors. He is a Biochemistry major with sturdy backing in a PG diploma in digital marketing, helping in the exhaustive content creation based on extensive research and competitive marketing.