The Increasing Demand for Steel and its Market Overview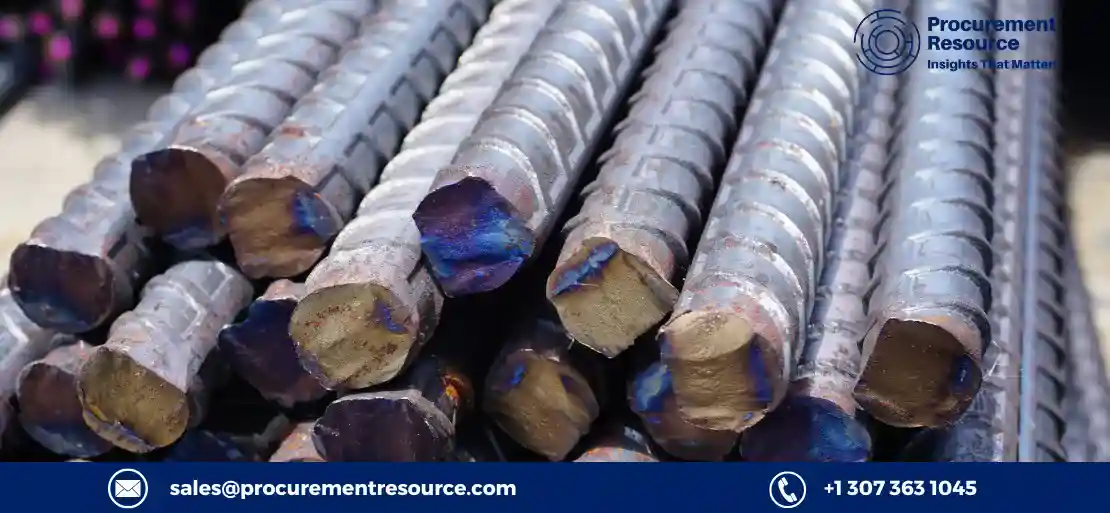 Steel: What is it?

Steel is produced when iron, carbon, scrap steel, and trace amounts of other elements are mixed. It is an iron and carbon alloy with negligible levels of carbon (less than 2%) and manganese (2%), as well as negligibly small amounts of silicon, phosphorus, sulphur, and oxygen. It is the most significant building and engineering material in the world and is utilised in a number of different businesses, including those that produce automobiles, buildings, etc.
Steel Production from Blast Furnace

Coke, limestone, and iron ore are forced into the blast furnace, where they are pushed to progressively sink to the bottom. As they make their way to the furnace's bottom, the components heat up more and more. Iron ore in the top-half emits oxygen as gas from the burning coke. Limestone reacts with the coke and impurities in the iron ore in the bottom-half to create a slag.
Request Access For Regular Price Update of Steel
The temperature then rises to above 3000 degrees Fahrenheit at the base of the bast furnace. The molten slag rises above the flowing steel, which is subsequently emptied from the furnace through a slag notch. In the end, a tap hole is built to allow the molten steel to exit the furnace hearth.
Steel Production from Electric Arc Furnace

Steel scrap is added during this procedure from the electric arc furnace's top. When the furnace is filled, the EAF's lid is shut. The electrodes in the lid are charged with a powerful electric current, which produces heat and melts the steel scrap. Later, additional additives are added to it to create the required composition, such as ferro-alloys.
To further purify the steel in the furnace, oxygen is also supplied. Finally, the molten slag that is produced when impurities are combined with lime and fluorspar floats above the molten steel. The furnace is then tilted, causing the slag to be poured out.
Key Market Players
ArcelorMittal S.A
Hindustan Steel Corporation (LTD.)
Tata Steel Limited
Nippon Steel Corporation
Steel Price Trend

Steel Plate
North America
In the face of growing indications of a recession and deteriorating manufacturing indicators, steel plate prices in the North American market continued their downward trend. A bigger demand-supply gap between HRC and plate was experienced by the manufacturing units throughout the quarter, which caused the steel production cost to plummet along with its industry prices.
As a steel production company, Nucar lowered its plate prices in the middle of the quarter, but steel plate prices continued to fall. Lead also rose, going from 3-5 weeks to 5-6 weeks. In order to avoid taking risks in an unstable market, many buyers refuse to make purchases that would increase their inventories. Instead, they prefer to keep their inventories low.
Asia Pacific
In the Asian market, prices for steel plates have been on the decline. Market participants claimed, a number of factors continued to put pressure on global steel prices, including the conflict between Russia and Ukraine and all of its complications as well as the effect of COVID-19 cases in China on overall steel demand.
Lower exports cause an increase in inventories, which forces steel producers to modestly reduce production in the third quarter. As a result, prices continued to decline, with market participants adopting a wait-and-see attitude as they awaited the price slide to settle before entering the market again.
Europe
In Europe, where inflationary pressures are still present and consumption is sluggish, steel plate prices have been on the down. The price of stainless steel has increased as a result of increased inflationary pressure in Germany and cost pressure on local Steel Plate makers.
Additionally, sanctions imposed by the West did not have the anticipated impact on the Russian steel industry. However, in order to deliver their steel goods and raw materials, Russian steelmakers are compelled to look for fresher markets and logistics channels.
Steel Rebar
North America
Prices for steel rebar have been shifting in the North American market. Despite an influx of imports and rapidly declining raw material prices, steel rebar prices in the United States continued to decline in July and August 2022 as a result of an imbalance between supply and demand. Suppliers report that while import costs rose in September as the construction industry remained active, US Steel Rebar prices were largely constant.
Additionally, it was noted that expenses were greater for foreign producers. A decrease in the availability of Russian natural gas has resulted in higher energy costs across Europe and Turkey. Due to service centres delaying purchases because of weak consumer demand, which has been made worse by labour and part shortages, steel rebar prices have decreased.
Asia Pacific
Due to poor buying activity and few spot transactions, steel rebar prices decreased by more than 10% in the Indian market. Market participants believe that the price of steel rebar in India has bottomed out, and further falls are unlikely because demand is projected to pick up in the second half of the year.
Shipments have been limited by the 15% export tax on steel goods that was implemented in late May along with the weak global market, while imports have surged in response to lower-priced offers from Russia and South Korea. Due to lower costs for raw materials like sponge iron and steel billets as well as fewer purchase inquiries despite significant discounts, the price of steel rebar decreased.
Europe
Due to the sparse trading in the local market, Steel Rebar prices in Europe had a decreasing price trend. According to market participants, limited demand, few transactions, rising energy costs, and seasonal maintenance push kept Steel Rebar prices low in the European market.
Some private residential construction firms have not resumed operations since August and are postponing new projects and construction sites. Some builders give priority to the most lucrative development sites while they watch for other sites' costs to decrease. The steep rises in all construction-related raw materials, such as steel, wood, and cement, are also holding down public projects.
Recent Development:

September 23, 2022: Due to the spiraling energy prices, steel companies throughout the EU have reduced their output, which has increased the serious threat of plant closures (both temporary and permanent) in the industry, which employs about 300,000 people and generates tens of billions of euros for the local economy.
How Does Procurement Resource Help?

For more than 500 chemicals, commodities, and utilities, Procurement Resource provides in-depth market information and pricing analysis that is updated daily, weekly, monthly, and yearly. No matter what link in the value chain you represent, it is a convenient, affordable one-stop solution for all your market research needs.
Read More About Steel Production Cost Reports - REQUEST FREE SAMPLE COPY IN PDF
Our team of highly skilled analysts performs thorough research to provide our clients with the most recent and up-to-date market studies, cost models, price analyses, benchmarking, and category insights, which aid in streamlining the procurement process for our clientele. Our team keeps tabs on the expenses of manufacturing and the pricing of a wide range of products, so you always have access to the most up-to-date information.
About Author:
Prakhar Panchbhaiya
Senior Content Writer at Procurement Resource
Prakhar Panchbhaiya is an accomplished content writer and market research analyst. With over 4 years of experience in content creation and market analysis encompassing many industries, including pharmaceuticals, nutraceuticals, biochemistry, healthcare, ed-tech, and Food & Agriculture, he has been creating quality content for multiple sectors. He is a Biochemistry major with sturdy backing in a PG diploma in digital marketing, helping in the exhaustive content creation based on extensive research and competitive marketing.