The Market Overview of Copper and its Demand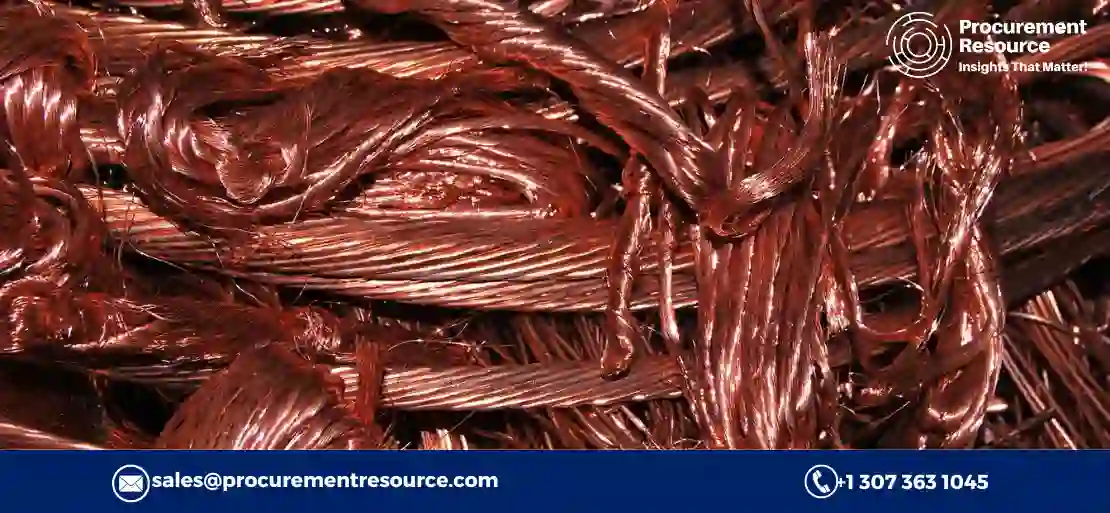 Copper: What is it?

Copper is a malleable, ductile, and soft chemical element. As a heat and electrical conductor, copper is used in a variety of applications. Additionally, the element is one of the nutritional minerals that are necessary for all living things. The chemical formula of copper is Cu, and its molecular weight is 63.55 g/mol.
Market Drivers

Due to its characteristics, copper is utilised in several applications. Wires and cables, dynamos, transformers, motors, electromagnets, switches, communication cables, household electrical circuits, and other items made of copper are used in electronic devices.
Request Access For Regular Price Update of Copper
The popularity of electric vehicles recently enhanced copper's demand. Electrical vehicles made of heavy copper use motors, shaft heads, stators, rotors, hollow wires, and foils.
The electronics market in North America, particularly in the United States, is anticipated to expand moderately. Future market expansion is anticipated to be aided by a rise in the demand for new technical items.
Copper Price Trend in 2022

Copper Plate:
North America
Prices for copper plates in the North American market were on the rise. The Federal Reserve's hawkish position, which outweighed supply worries in August, hindered the demand forecast. The outlook for Copper Plate demand worsened, and Codelco of Chile, the most recent big producer to lower output guidance, took precedence over additional indications that supply was in danger.
Continuous supply shortages at many American mines and Chinese authorities' decreasing lending rates have helped to support copper plate prices. The US Inflation Reduction Act has prompted several investors and manufacturers to invest in renewables as soon as possible before energy prices skyrocket, thereby increasing copper demand. This is in addition to rising European energy prices.
Asia Pacific
Reduced costs for raw materials caused a more than 10% drop in copper plate prices. Market players claim that despite falling input costs, inflationary fears are persistent, thus manufacturers implemented cost-cutting initiatives to aid the margin increase.
Participants in the market believe that the advantages of softening raw materials may become apparent in the upcoming quarters. After statistics revealed that US inflation was less than anticipated, copper prices increased in August, assuaging concerns about a potential recession and fostering optimism about future interest rate hikes. Investors' concerns about shortages due to stoppages brought on by high energy costs or other disruptions drove up copper prices.
Europe
Due to temporary government initiatives to lighten consumer financial pressures in the transportation sector, inflation in Germany increased once more in August after slightly declining in June and July. In order to fight the crisis in the eurozone, the European Central Bank increased interest rates, which impacted the copper production cost. Some producers might be forced to shut down their facilities if the price stays below the marginal cost for an extended period of time.
The US dollar increased, and global equities declined as investors increased their level of caution, which put pressure on commodities with a dollar price by making them more expensive to buyers using other currencies. To prepare for a possible recession, funds have been accumulating short positions. Put options, which offer the holder the right to sell copper at a given price on a specific date, were purchased by some investors.
Copper Rod:
Europe
Due to a lack of supply in the European market, Copper Rod prices have been on the rise. Market participants claim that European zinc and aluminum smelters have already experienced brief shutdowns due to rising electricity costs. Commodity prices are impacted by an increase in interest rates in advanced nations.
Market participants, however, predict that base metal prices are unlikely to decrease further in the near future due to the low inventory levels in major warehouses. Low prices also put pressure on domestic base metal producers' profit margins, which benefits user industries. In addition, players will experience cost pressures while buying coal from the market due to the rising price of coal.
South America
In the South American market, copper rod prices showed a mixed trend. According to market participants, copper prices rose in August after falling in July due to concerns about a global recession. In contrast, prices were down about 10% in August compared to the same month the year before.
In September, prices did not significantly alter. Market participants claim that higher average prices in August and September were caused by a surge in metal imports from China, the Asian giant taking advantage of the price reduction from early June to mid-July. In addition, the production of copper in Chile decreased by 8.6% in July, likely maintaining a limited supply and supporting prices.
Asia Pacific
Due to disruptions at foreign copper mines and a power outage that has affected regional copper production, copper rod prices showed a mixed price movement; nonetheless, demand remained weak. Investors maintained their caution because a worldwide economic slowdown may potentially reduce demand. Market applicants claim that the decline in stockpiles, evidence of improved Chinese demand, and worries that smelters may have to reduce output as a result of sky-high energy prices are what caused the increase in copper prices.
Read More About Copper Production Cost Reports - REQUEST FREE SAMPLE COPY IN PDF
Since August, increased concerns regarding the growth of sulfuric acid storage facilities, high temperatures across much of the nation, and domestic refined copper output have all impeded electrolytic copper manufacturing. Domestic mine supply was constrained, and domestic copper inventory remained high.
Key Players in the Market of Copper
Umicore N.V,
American Elements,
MMC Norilsk Nickel PJSC,
Korea Zinc Co., Ltd.,
Jinchuan Group International Resources Co. Ltd,
Glencore plc,
The Doe Run Resources Corporation,
Codelco Mining company,
Freeport-McMoRan Inc.,
Broken Hill Proprietary (BHP)Group Limited,
Rio Tinto plc
About Author:
Prakhar Panchbhaiya
Senior Content Writer at Procurement Resource
Prakhar Panchbhaiya is an accomplished content writer and market research analyst. With over 4 years of experience in content creation and market analysis encompassing many industries, including pharmaceuticals, nutraceuticals, biochemistry, healthcare, ed-tech, and Food & Agriculture, he has been creating quality content for multiple sectors. He is a Biochemistry major with sturdy backing in a PG diploma in digital marketing, helping in the exhaustive content creation based on extensive research and competitive marketing.