The Market Overview of Ethanol and its Demand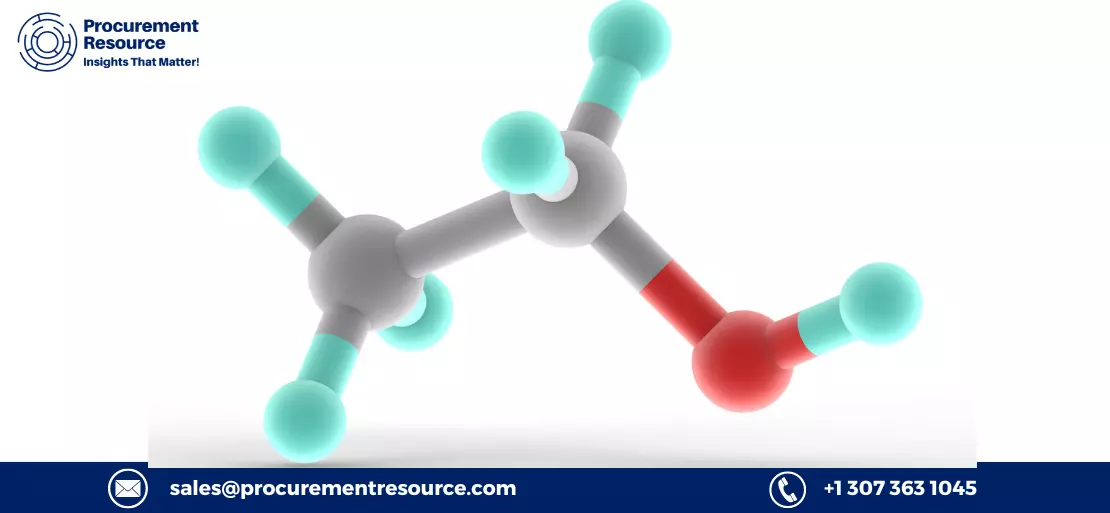 As a solvent, a component in the synthesis of other organic compounds, and an additive for gasoline, ethanol is a significant industrial chemical. Ethanol has a melting point of 156 K and a boiling point of 351 K and is always liquid at ambient temperatures.
Due to its excellent solvent properties, it is also used to make a variety of medicines, including tonics, tinctures of iodine, and cough syrups. It dissolves properly in water. Additionally, pure ethanol is fatal in whatever amount is consumed.
Production Process of Ethanol

Starch and Sugar-Based Ethanol Production
Utilising starch-based crops and either dry- or wet-mill processing is one method of ethanol production. Dry mills make up around 90% of ethanol-producing facilities since they are less expensive. In the dry-milling process, ground corn is used to manufacture flour, which is then fermented with distiller's grains to produce ethanol, producing carbon dioxide as a by-product.
Request Access For Regular Price Update of Ethanol
The main products produced by wet-mill plants are corn sweeteners, ethanol, and other by-products such maize oil and starch. Before the corn's starch, protein, and fibre are used to make ethanol and other goods, wet mills separate the corn's starch, protein, and fibre
Production of Ethanol using Cellulosic

Contrary to using starch-based crops, the two main processes used to produce cellulose ethanol are thermochemical and biochemical, which are far more complicated when using cellulosic feedstocks including waste of grass, wood, and crops.
A biomass feedstock is heated and chemically treated in the thermochemical conversion process to create syngas, a mixture of hydrogen and carbon monoxide. The next syngas is combined with a catalyst and converted to ethanol, yielding additional liquid by-products.
In the biochemical approach, the cellulose is first broken down into sugars through hydrolysis, which is then followed by a pre-treatment to liberate the hemicellulose sugars. When the lignin from these sugars is recovered and further fermented to create ethanol.
Ethanol Price Trend and Forecast

North America
In the US market, perspectives on ethanol prices were conflicted. Experts claim that ethanol production in July remained below average. However, demand for the product rose in August 2022 as corn and sugarcane prices followed the increasing trend of the domestic market. Hence, the production cost of ethanol saw a jig.
Significant participants noticed a frenzy to feed supply to meet domestic demand, which drove up the cost of generating ethanol in the domestic market. Price tendency in the US market was brought on by the product's continuing high demand from downstream industries including pharmaceutical and biofuel production.
Fewer end-use companies contacted suppliers and ethanol producers to inquire about the product, which led to a drop in ethanol prices in the neighbourhood market. Because of the unprecedented level of global demand, domestic prices have dramatically increased.
Asia Pacific
Due to the strong demand outlook and the availability of feedstock, ethanol prices in the Asian market experienced mixed emotions.
The Chinese government imported less ethanol from the US, showing lower downstream demand, according to the Renewable Fuel Association (US). However, as biofuel output increased, ethanol consumption in China rose near the end of the quarter.
As the Indian government reached its goal of 10% ethanol-based fuel and now intends to increase the ethanol content, ethanol prices in India jumped by more than 3%. Because of the rising cost of fuel, ethanol production has become more expensive in Asian nations.
Europe
A rush to increase ethanol production was observed in order to satisfy domestic demand, which increased the production cost of ethanol in the local market.. The demand for ethanol used in the manufacturing of biofuels in the German market remained under pressure as a result of increased inflationary rates and a lack of ethanol supplies.
Germany's North Sea ports underwent a union worker strike in the third quarter, which slowed supply and transit times. Major ports in the nation have a backlog of vessels with less momentum.
Feedstock corn and sugarcane costs, as well as sluggish demand from the pharmaceutical and personal care industries, were to blame for the lag in ethanol pricing in Germany. However, prices for feedstock, corn, and sugarcane stayed low throughout August, which proportionally affected ethanol pricing on the domestic market.
Key Players in the market of Ethanol
United Breweries
Aventine Renewable Energy
AB Miller
Archer Daniels Midland Company
Kirin
Pure Energy Inc.
British Petroleum
Cargill Corporation
Recent Developments
19 September 2022: Due to the allure of international markets over domestic ones, ethanol exports from Brazil to Europe are expected to reach historic highs this year.
September 20, 2022: A report from the USDA Foreign Agricultural Service's Global Agricultural Information Network suggests that this year, as support for previous biofuel regulations wanes, Chinese rates for ethanol mix are anticipated to reach barely 1.8 percent.
Read More About Ethanol Production Cost Reports - REQUEST FREE SAMPLE COPY IN PDF
Ethanol is one of the crucial compounds that has significantly diverse applications across a myriad of industries. Cosmetics, pharmaceuticals, food and beverage, pharmaceutical, automobile, paints and varnishes, and whatnot have a hefty reliance on ethanol. Therefore, catering to such a pivotal compound needs to be substantiated by vigilance and right moves, especially for businesses dealing with its production and procurement.
About Author:
Prakhar Panchbhaiya
Senior Content Writer at Procurement Resource
Prakhar Panchbhaiya is an accomplished content writer and market research analyst. With over 4 years of experience in content creation and market analysis encompassing many industries, including pharmaceuticals, nutraceuticals, biochemistry, healthcare, ed-tech, and Food & Agriculture, he has been creating quality content for multiple sectors. He is a Biochemistry major with sturdy backing in a PG diploma in digital marketing, helping in the exhaustive content creation based on extensive research and competitive marketing.