The Market Overview of Titanium and its Growing Demand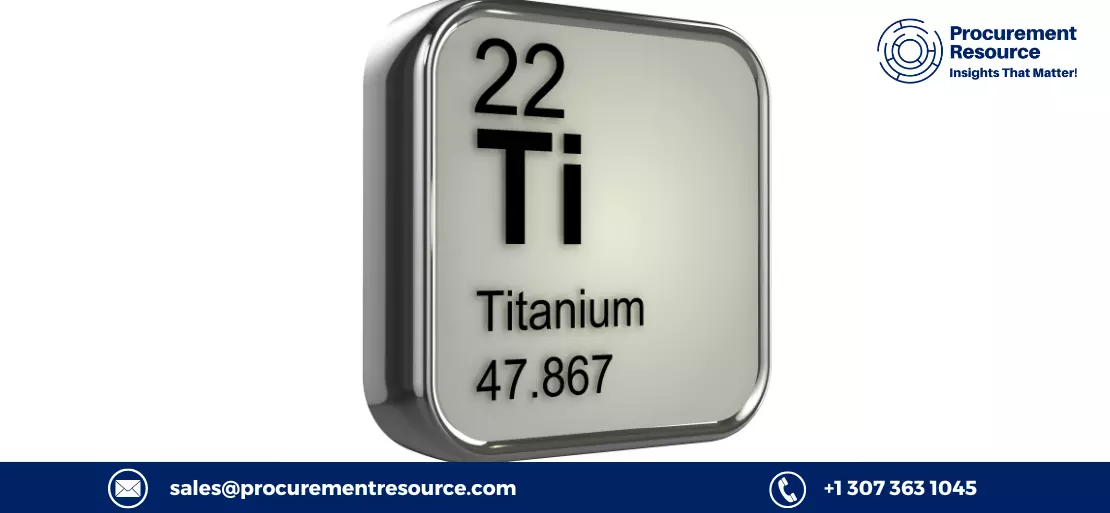 Titanium is a transition metal with a shivery sheen having an atomic number 22. It is the ninth most prevalent element in the earth's crust. It has a low density and is corrosion-resistant. It is extensively employed in high-speed aircraft parts. The density of titanium is 4.506 g/cm3. In this blog we would see the latest price dynamics affecting the pricing of Titanium
Titanium Production Process

Titanium From the Chloride Process
It is a two-step process that requires combining coke, chlorine, and dry ore to create titanium chloride, which is then oxidised by burning it with another flammable gas in an oxygen-rich environment.
Titanium From Ilmenite
Titanyl sulphate is hydrolysed in the solution to produce insoluble, hydrated titanium dioxide after being dissolved in sulphuric acid to create a mixture of sulphates. The solid is heated in a calciner to evaporate the water, break down the sulphuric acid, and create seed crystals that may be ground to any desired size.
Titanium From Rutile
To create titanium chloride, coke, chlorine, and rutile are treated in a chlorinator. Utilising oxygen and another flammable gas, titanium chloride is oxidised, leading to combustion. Titanium oxide is produced using seed crystals in a gas stream while waste gases are filtered out.
Titanium From Sulphate Process
The method involves the use of simple technology. Low-quality, inexpensive tools are used. The pigment from titanium is extracted using sulfuric acid. Acid treatment has a greater production cost since it is more expensive.
Request Access For Regular Price Update of Titanium
The Three steps make up the procedure: dissolving the ore in sulfuric acid to produce sulphates; hydrolysing titanyl sulphate to produce insoluble hydrated titanium dioxide; and finally, heating the solid to vaporize water and dissolve sulfuric acid.
Market Drivers

Titanium is used in a wide range of consumer and industrial products, including plastics, paper, paints & coatings, textiles, food colourants, and cosmetics. It is a pigment that is included in paints and coatings for usage in the construction and automotive industries as roofing and floor coverings, as well as in styling and coating automotive products and printing inks.
Additionally, it finds use in self-cleaning technology, which encompasses items like self-cleaning pavement, polycarbonate substrate, cleaning cloth, self-cleaning paints, and antibacterial covers for hospital infections, propelling the market growth of the product.
Titanium Price Trend 2022

Titanium Dioxide
North America
Reduced requests from the downstream paint and coating industry and falling upstream costs have caused a downward trend in titanium oxide offerings. The pricing value chain for titanium dioxide among dealers has been indirectly impacted by the decline in crude oil prices.
This price drop was mostly caused by cheaper imports from Asia despite fluctuating demand in the local market. Variable input costs and a weak demand environment have had an impact on the end-user building sector. In addition, a market leader, Chemours, reduced its output due to a persistent fall in the demand for titanium dioxide.
Asia Pacific
The market for titanium dioxide has continued to decline, showing a considerable decline in the third quarter of 2022. The market emotions regarding titanium dioxide in China have gotten worse due to falling energy prices and the recurrence of fresh COVID cases. The declining Sulphur Dioxide prices have also put downward cost pressure on the cost of producing Titanium Dioxide on the upward price front.
Market participants have noted that the supply-demand equilibrium has been disrupted by the overabundance of commodities. As a result, in order to prevent hoarding the product, the manufacturers had to lower their quotations. The Purchasing Manager Index (PMI) also decreased to 49.0 in July, further weakening the fundamentals of demand.
Europe
The price patterns for titanium dioxide in the German market have shown conflicting feelings. The significant rise in energy prices has taken a toll on Europe's biggest economy, which has impacted the market sentiments and titanium production costs among key manufacturing companies. The regional market's supply fundamentals for raw materials have been worse due to the constrained gas supplies from Russia's Gazprom during maintenance.
Read More About Titanium Production Cost Reports - REQUEST FREE SAMPLE COPY IN PDF
The summer heat wave has also made the energy problem worse by lowering water levels and obstructing vital energy shipping routes. Natural gas supply constraints have increased downside risks for the building and automobile industries' manufacturing capabilities and pressured the dynamics of titanium dioxide demand.
About Author:
Prakhar Panchbhaiya
Senior Content Writer at Procurement Resource
Prakhar Panchbhaiya is an accomplished content writer and market research analyst. With over 4 years of experience in content creation and market analysis encompassing many industries, including pharmaceuticals, nutraceuticals, biochemistry, healthcare, ed-tech, and Food & Agriculture, he has been creating quality content for multiple sectors. He is a Biochemistry major with sturdy backing in a PG diploma in digital marketing, helping in the exhaustive content creation based on extensive research and competitive marketing.