Global Supply Chain Developments Halted Due to Russia's Invasion of Ukraine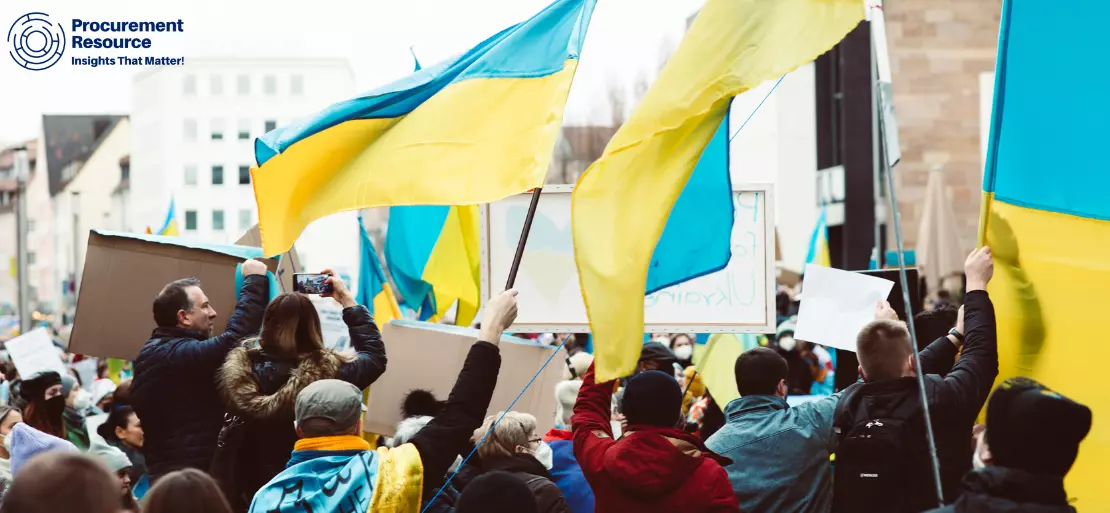 Supply chain challenges

The Ukraine crisis is rechallenging the global supply chains. Prior to the conflict, supply chain issues had just recovered from the impact of COVID-19. Although container handling improved in many regions, the schedule reliability - the actual on-time performance of each vessel arrivals in ports tracked by Sea Intelligence - fell to 30.9 percent, an all-time low. But shipping rates experienced some relief in the spot market; however, the switch to long-term contracts translated that high container taxes are now locked in.
Russia and Ukraine are not the only EU trade partners but there are other countries too

Ukraine's exports and imports share of global goods accounts for just 0.3 percent each, whereas Russia's share is 1.9 percent and 1.4 percent, respectively. Although both countries hold a minor share in global trade, they play a significant role in the export of gas, oil, and grains. They are closely linked to Baltic states among other Eastern European countries, like Bulgaria, Latvia, Lithuania, and Finland. Almost 40 percent of the average trade in these countries was linked to Russia during 2015-2020, not limited to goods imports and exports, but also as value-adding partners in supply chains.
Bulgaria and Lithuania have closer ties; Russia's value-added as a percentage of final demand is about 6 percent in both countries. On the other hand, the Ukraine trade share during the same time frame was significantly smaller, with Lithuania (1.9 percent), Hungary (1.7 percent) and Poland (1.5 percent) holding the highest shares.
Sanctions negatively impact European trade with Russia and transit traffic

Countries in the EU prohibited a wide range of exports, including equipment, machinery, high-tech products, and materials, to Russia, as well as extended the extent of sanctions to Belarus. These products account for almost 40 percent of the export packaging into Russia on the basis of the sanction list by the EU.
Adding to the extensive self-sanctioning, the subsequent formal sanctions will impact the trade significantly this year. All exports and import shipments with Russia have been prohibited, halting the commodity flows. As a result of the closure of Russian airspace, air freight traffic has been delayed.
Additionally, the Asia and Europe rail transport via Ukraine through the 'Silk Road' has been restricted, leading to high uncertainty of transportation through both countries. Based on tonnage, only one percent of world trade is covered by air cargo, whereas the Silk Road accounts for 1-2 percent of Asia and Europe's container traffic.
However, on the basis of value, it holds a significant share since higher valued (consumer) products such as pharmaceuticals, electronics, and high-end agriproducts are concerned. World trade can drop by 5.6 percent in comparison to the month prior, as per the Kiel Trade Indicator, although the conflict only escalated during last week of February 2022.
Contortions of commodity markets and trade affect supply chains significantly

The supply chains would be majorly impacted due to any extreme disruption to Russian energy exports since many countries of the EU rely on Russian energy. Despite the absence of this, more severe challenges lie ahead; apart from the export of agricultural products like corn, wheat, and sunflower oil (China, Egypt, India, and the Netherlands account for the large consumers), Russia as well as Ukraine export considerable quantities of platinum, steel, nickel, palladium, among others.
About Author:
Prakhar Panchbhaiya
Senior Content Writer at Procurement Resource
Prakhar Panchbhaiya is an accomplished content writer and market research analyst. With over 4 years of experience in content creation and market analysis encompassing many industries, including pharmaceuticals, nutraceuticals, biochemistry, healthcare, ed-tech, and Food & Agriculture, he has been creating quality content for multiple sectors. He is a Biochemistry major with sturdy backing in a PG diploma in digital marketing, helping in the exhaustive content creation based on extensive research and competitive marketing.