Copper Prices Have Dropped Below USD 9,100 Per Tonne, a 15 Percent Drop from Their All-Time High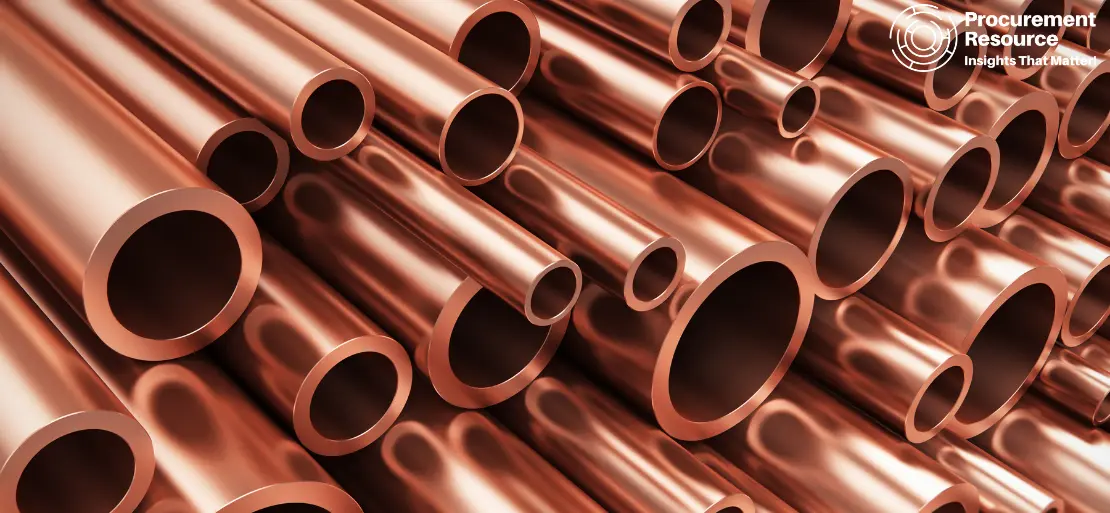 The price of copper rises as investors buy up inventories at a cheaper level while the value of the dollar falls. As investors took advantage of the lower price to construct a new position, copper prices extended their gains and traded at the day's high point. Yesterday, the non-ferrous metal hit a five-week low as solid US jobs data fueled fears that monetary policy may be tightened further.
Check Real-Time Price Now: Copper Price
The Relative Strength Index (RSI), an impetus indicator, is 31.14, indicating a negative price trend. On a rising dollar and China's attempt to control raw material prices, copper prices resumed their downward trend and traded below USD 9,100 per tonne. On the MCX, the non-ferrous metal fell 7.29 percent last week.
After reaching an all-time high of USD 10,746 per tonne on May 10, the base metal has dropped nearly 15 percent. With a company turnover of 4,766 lots, copper delivery for June fell INR 2.10, or 0.30 percent, to INR 691 per kg at 16:31 hours. With a turnover of 1,622 lots, the July contract fell by INR 1.85, or 0.27 percent, to INR 696.20 per kg.
So far, the value of June and July futures exchanged has been INR 1,111.20 crore and INR 281.23 crore, respectively. At 16:33, the MCX METLDEX was up 24 points, or 0.17 percent, at 14,445. The index measures the performance of important basic metals in real-time.
According to Tapan Patel, Senior Analyst (Commodities), HDFC Securities, base metals prices traded mixed on Monday, as most of the metals kept subdued trading in the early session. Base metals were under pressure due to a rising currency and expectations of a Chinese crackdown.
China has revealed a proposal to sell state-owned copper, aluminium, and zinc assets to stabilise commodity prices. He further stated that as China announced to sell its stockpiles, copper prices saw severe selling in the last week, registering the most significant weekly drop since March 2020. Market participants are wary after the FED's hawkish posture, anticipating that the stimulus would be unwinded shortly.
LME-registered warehouse copper stockpiles increased by 24,925 tonnes to 168,675 tonnes, the most significant level since April. From week to Friday, stocks in Shanghai Futures Exchange-registered warehouses declined by 8,440 tonnes to 172,527 tonnes. Investor attitude was pulled down by China's announcement that metals from its national reserves will be released through a public auction to non-ferrous processing and manufacturing enterprises.
In the evening session, the US dollar fell to 92.04, down 0.18 percent against the other major currencies. The Fed's shift in tone drove the dollar to its highest weekly rise since April 2020, putting downward pressure on prices.
Technicals
On the daily chart, the non-ferrous metal has been trading lower than the 5, 20, 50, and 100-day moving averages but higher than the 200-day moving average. The Relative Strength Index (RSI), a momentum indicator, is 31.14, indicating a negative price trend. The reddish-brown metal price in London fell 0.68 percent to USD 9,083 per tonne at 1111 GMT.
Investing strategy
Patel anticipates base metals to trade sideways to lower, with support around INR 670 and resistance at INR 710 on the MCX Copper June contract.