Groundnut Oil Prices to Remain Firm in 2023 Due to Drop in Acreage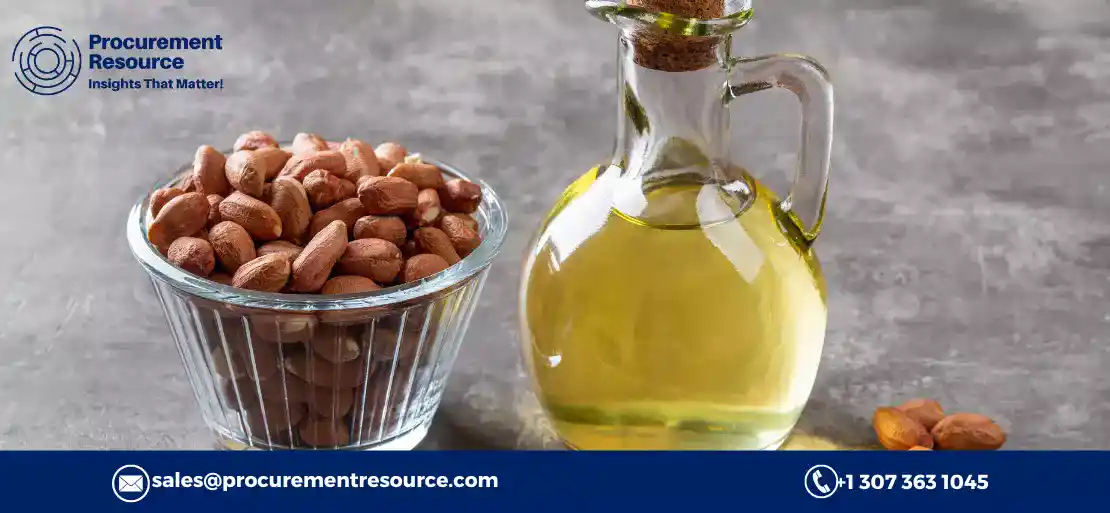 Due to a sharp decline in acreage in Gujarat, the nation's top groundnut producer, kharif groundnut production is predicted to dwindle and see a dip by by 0.85 million tonnes to below 3 million tonnes in the season, raising the already high price of groundnut oil.
The significant oilseed harvest suffered from unseasonal rain in addition to a decrease in acreage. According to a recent SEA survey, Gujarat is anticipated to produce close to 3 million tonnes of groundnuts this season as opposed to close to 3.85 million tonnes in 2021-2022.
Request Access For Regular Price Update of Groundnut Oil
In the crop year from July 2022 to June 2023, the Saurashtra Oil Mills Associations (SOMA), the leading organisation of oil mills in Gujarat, has forecasted groundnut production at less than 2.9 million tonnes.
Gujarat is currently experiencing the lowest groundnut sowing in the last three years at just under 1.7 million hectares, compared to a peak of 2.1 million hectares during the kharif 2022 season. 1.93 million hectares of ground nuts were sown during the 2021-2022 growing season.
Viradia claims that a significant portion of farmers in the Saurashtra region have switched from cultivating cotton to ground nuts. He added that unseasonal rain has palliated the productivity and that in many locations the crop was harmed by rain in the first week of October, thus he adds the matter is significantly complicated.
Even Gujarat's agricultural department's First Advance Estimate predicted a drop in groundnut production of approximately 0.5 million tonnes, from 4.4 million tonnes to as low as 3.9 million tonnes. However, because the state government released the rules in August of this year (before the crop was harmed by unseasonal rain) many millers and traders disagree with them.
Groundnut seed demand has skyrocketed both domestically and internationally, making it difficult for oil mills to find groundnuts at a price that is reasonable for crushing.
Gujarat produces about 4 million tonnes (MT) of groundnuts annually, accounting for nearly 60% of all groundnuts produced in India. Gujarat is followed in production by Rajasthan, Tamil Nadu, Andhra Pradesh, and Karnataka.
The prices of edible oilseeds were on the rise, and most of the oilseed prices closed higher than they had during the previous weekend. However, because there is less demand for crude palm oil (CPO), prices have slightly decreased. Market sources claim that the decrease in CPO oil prices is a result of the processing facilities losing money while trying to create palmolein from crude palm oil (CPO) and not receiving the proper price.
Foreign increases in soybean oil prices have also affected domestic increases in the price of soft edible oils like mustard, peanut, soybean, and cotton.
The market price of oil is lower than the cost after crushing, despite the fact that these mills purchase oilseeds at higher prices. It is challenging to stand in front of any oil due to the low cost of imported oil.
The farmers also received favourable prices for their goods at the same time. Despite prices being higher than the Minimum Support Price (MSP) at the moment, farmers are not selling more of their produce because prices are lower than the prior pricing. The largest challenge, according to market experts, is getting the crude and DOC used for poultry and animal feed because light oil is not crushed. As a result, there is an increase in the cost of milk, butter, cheese, poultry, and eggs, which causes inflation.
A duty-free import quota of sunflower and soybean oil has reportedly been set in the nation to supply consumers with affordable edible oil, however the cost of edible oil has not decreased. The rest of the importers were restricted as a result of this action, and the majority of these oils were priced higher, making them more expensive.
Read More About Groundnut Oil Production Cost Reports - REQUEST FREE SAMPLE COPY IN PDF
As per Procurement Resource, Gujarat, the largest groundnut producer in the country, is expected to drop by 0.85 million tonnes to below 3 million tonnes, pushing up the already high price of groundnut oil. It is predicted that Gujarat will produce nearly 3 million tonnes of groundnuts this season opposed to close to 3.85 million tonnes in 2021-2022, according to a recent SEA survey.