Regional Price Overview
Get the latest insights on price movement and trends analysis of Coffee in different regions across the world (Asia, Europe, North America, Latin America, and the Middle East & Africa).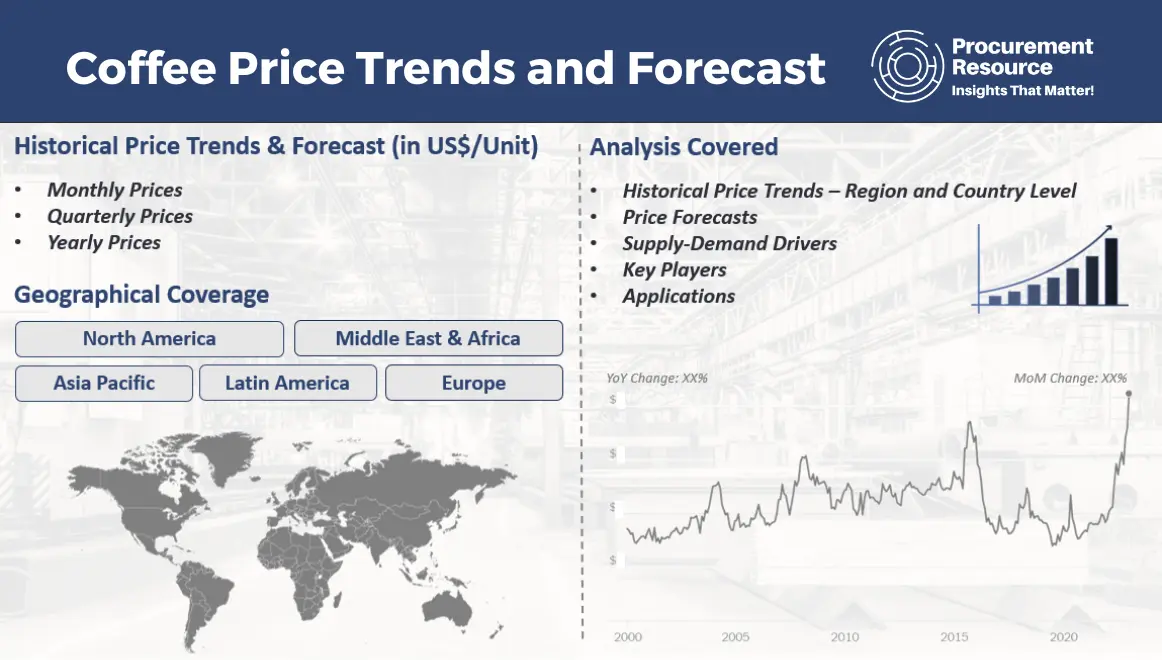 Coffee Price Trends for the First Half of 2023
During the first half of the year 2023, coffee prices soared across the world as a supply constraint was observed amidst consistent end-consumer demands. The continuous lower production yields in 3 consecutive years were primarily responsible for this upsurge in Coffee prices.
In Brazilian coffee farms, not only was the yield reduced, but the adverse weather conditions called for a delayed harvest, which further raised quality concerns. In Feb'23, the prices jumped as high as 6% within a single week for some varieties of coffee. Overall, the Coffee prices remained on an inclined trajectory throughout the said period.
Analyst Insight
According to Procurement Resource, the price trendss for Coffee are likely to rise further as the uneven and disturbed rain cycle this year has impacted the farm yields, and the inventories are also emptying rapidly. Thus, the Coffee prices will incline in the upcoming months.
Coffee Price Trends for the Fourth Quarter of 2022
After surging all through the first three quarters, the Coffee prices stabilized a little in the final quarter. The Russia and Ukraine conflict and Chinese lockdown earlier in the year crumbled the supply chains, and various shipments got stuck in the middle of a commute.
The decline in prices came as a result of the restored movement in these stuck shipments. The bad weather conditions continued to affect the coffee yields in the African sub-continents, but as the supply chains were restored and newer trade routes opened up, the prices declined marginally in the final quarter of the year 2022.
Analyst Insight
According to Procurement Resource, with continuously declining farm yields of coffee beans, the prices are projected to rise in the upcoming months.
Coffee Price Trends for the Third Quarter of 2022
Asia
The price trendss for coffee registered an upwards trajectory in Q3 throughout the Asia-Pacific region. In India, the prices of raw Robusta coffee berries reached a whopping 106 INR/kg compared to the 80 INR/kg value during the same period the previous year. These high prices were due to the short supply of coffee beans in the market owing to the harvest losses amid adverse climates.
Incessant rainfall, -flooding, caused delays in the flowering season which affected the overall rates of production and exports. Vietnam the largest producer of Robusta beans witnessed a slump of 15-17 per cent in exports. The inventories of Arabica coffee witnessed a 23% decrease in overall production.
However, as the international situation stabilized coffee prices began to dwindle in the fourth quarter. A combination of overly optimistic flowering season and weaker economic conditions caused the demand and hence the prices to fall.
Latin America
Owing to the harvest losses in Brazil and Columbia (due to La Nina), the prices inclined worldwide as severe supply constraints were created. The lowered supply and rising demand caused the price trendss for coffee to incline drastically. The price of Brazilian Naturals went from 214.80 US cents/lb to 221.91 US cents/lb and that of Columbian Milds went from 286.07 US cents/lb to 295.66 US cents/lb towards the end of Q3.
However, soon the prices came under pressure as the demand started falling. With the central banks hiking interest rates worldwide, it directly affected the purchasing power of people leading to a fall in demand. Hence, the price of Brazilian Naturals went from 192.27 US cents/lb to 169 USD cents/lb while that of Columbian Milds went from 261.95 US cents/lb to 224.12 US cents/lb towards the end of Q4.
Analyst Insight
According to Procurement Resource, the price of coffee will remain under pressure for an extended period. However, while yields are expected to increase for some of the world's largest coffee-producing countries, farmers are also facing rising costs of production. Hence, these rising costs will keep prices from tumbling too sharply rather than not falling or rallying back up.
Coffee Price Trends For the Second Quarter of 2022
Asia
Despite the ongoing European conflict, the prices and consumption of coffee are rising globally. According to the International Coffee Organization, Composite Indicator Price, the commodity gained around 4.5% from May to June 2022, with a global average of 202.46 US cents/lb.
The prices of Vietnam coffee are constantly rising as the domestic supplies are running low, and the traders are finding it hard to secure enough to meet their export quotas. The price of COFUN-DAK went from 1.88-1.90 USD/kg in the said quarter.
The price of the Robusta coffee averaged 1981 USD/MT, recording an increase of almost 1.4%. The prices will likely remain strong until the farmers start the new harvest in November-December.
North America
The prices in the US domestic arena remained strong in this quarter. The prices averaged 7.3-7.29 USD/kg in the domestic market. The US coffee cost was around USD 7299.33 in New York and Washington.
Latin America
The price of Brazilian Naturals averaged 230.40 US cents/lb, and that of Colombian Milds increased to 301.57 US cents/lb. However, volatility was seen in the price trendss of Brazilian Naturals due to the lower supplies from Brazil.
Minas Gerais, an area which accounts for almost 30% of Brazil's coffee production, received significantly less rainfall disrupting the supply of coffee beans. Hence, due to the tight inventories, the prices increased in the market.
Coffee Price Trends For the First Quarter of 2022
Asia
Following a decline in London prices due to interruptions in supply chains and payment systems, as well as increased oil prices as a result of the recent Russia-Ukraine conflict, domestic coffee prices in Vietnam fell in the first quarter. Farmers in Vietnam's Central Highlands, the country's largest coffee-growing region, sold coffee COFVN-DAK for 38,900-41,000 VND/kg (1.70-1.80 USD) in the first week of March, down from 40,600-41,800 VND/kg the previous week.
Europe
Germany continued to be the largest consumer of Vietnamese coffee, accounting for 18.4% of total volume and 17.5% of total export turnover, with 30,086 tons, equivalent to USD 64.71 million, at an average price of 2,151 USD/MT compared to December 2021.
Belgian exports ranked second in terms of volume and turnover, accounting for 14.6% of total volume and 12.5% of total coffee export turnover, with 23,877 tons, equivalent to USD 46.18 million, at an average price of 1,934 USD/MT, a decrease of 9% in price, compared to December 2021.
North America
Coffee prices increased in January 2022, hitting 204.29 US cents/lb, continuing the upward trends begun in 2021. The intra-day volatility of the ICO composite indicator price dropped by 1.8 percentage points to 8.3 percent in January 2022. The arbitrage between Arabica and Robusta coffees climbed by 3.9% to 135.07 US cents/lb, as assessed on the New York and London futures markets.
Arbitrage between the two futures markets has quadrupled in a year, from 67.05 US cents/lb in January 2021 to 135.07 US cents/lb in January 2022. Certified stocks on major coffee markets continued to decrease, plunging 16.2% in New York and 5.4% in London, respectively.
Latin America
From December 2021 to January 2022, the largest price increases were in the Colombian Mild and Brazilian Naturals classes, which averaged 294.93 US cents/lb and 233.80 US cents/lb, respectively. This marked a 1.5% gain for both groups over the earlier month's figures of 290.57 US cents/lb and 230.26 US cents/lb, respectively.
During January 2022, prices for Other Mild grew by 1.3% to 271.08 US cents/lb, up from 267.71 US cents/lb the previous month. Robusta, which was priced at 109.71 US cents/lb in January 2022, dropped 2.7% in the earlier month.
For the Fourth Quarter of 2021
Asia
Indian exports increased by 28% in 2021, owing to a rebound in demand in the world's largest coffee-consuming countries in the second half of the year. Exporters are hesitant to match it in 2022, owing to the fear surrounding the current variant of COVID-19.
Karnataka is India's largest coffee grower, accounting for over 70% of national production. Meanwhile, the Kerala government chose to purchase this commodity from marginal farmers in Wayanad, the state's primary coffee producing region, at a premium of 10 INR/kg over market prices. Kerala is the country's second largest coffee grower. The state government also budgeted INR 50 lakh for the acquisition of 455 MT of the produce.
North America
Coffee prices have risen to a 10-year high, and economists predict that market tightness will last until 2023. Contracts for December delivery were trading at 2.34 USD/lb on Monday. Futures on the New York Intercontinental Exchange hit 2.46 USD on Thursday, the highest price since the commodity broke above 3 USD/lb in 2011. Meanwhile, the benchmark price set by the International Coffee Association was 2.07 USD/lb, up 85% from a year ago.
Latin America
According to data produced by the National Institute of Statistics and Geography (INEGI) at the end of November, typical coffee prices from brands like as Nescafé, Legal, and Starbucks did not reflect the increase witnessed in Arabica contracts, which are primarily exported from Brazil and Colombia. Others, such as the average price of a 500-gram bag of normal coffee from Punta de Cielo, increased by 20.13% from November of last year to November of 2021.
Droughts followed by harsh frosts in Brazil, which produces one-third of the world's coffee, were responsible for a surge in its prices. According to Conab, a crop forecasting agency, producers gathered over 40% less arabica coffee, the world's most consumed type, than they did last year. Meanwhile, in Colombia, the second-largest exporter of arabica, heavy rains wreaked havoc on fields. Supply chain issues, such as port congestion or a shortage of personnel along with rising energy costs, which affect fertiliser prices, also led to higher coffee prices.
For the First, Second, and Third Quarters of 2021
Asia
Indian coffee prices commodity are highly correlated with world pricing, as around two-thirds of the country's three lakh tonnes of coffee is exported. Over the last four months, the premium that Indian arabica parchment commands over the New York ICE terminal has nearly halved to 30-37 cents per pound over the terminal, down from 60-65 cents in mid-December. Similarly, LIFFE has reduced the premium for robusta parchment by half.
Farm gate coffee prices in Karnataka had fallen by 6-7% over the last four months, despite the fact that global prices remained unpredictable. Arabica May 21 futures on ICE increased to 132 cents per pound, up from around 128 cents in early April. Similarly, LIFFE's May 21 Robusta futures were hovering around at 1,365 USD/MT, up from 1,350 USD/MT in early April.
North America
In August 2021, the average price of New York traded Arabica beans grew to 2.03 USD/lb, a 66% gain since the end of 2020. Futures prices surged as a result of predicted crop losses in Brazil, the world's largest coffee grower and exporter. According to USDA predictions, severe droughts in Brazil might cut the 2020-2021 Arabica coffee harvest by 30% compared to the previous market year and by 23% compared to the 2017-2021 average.
Increasing sea fright prices also contributed to rise in coffee prices. Brazil produces 40% of Arabica coffee beans and exports 27% of the world's coffee beans. It provides 30% of the coffee beans imported by the United States.
Latin America
The Brazilian naturals indication saw the largest price increase, reaching 174.89 US cents/lb in August 2021, up 8.9% from 160.62 US cents/lb in July 2021. Brazilian Naturals' average monthly price was at an all-time high of 181.43 US cents. The price of Colombian Milds climbed by 3.1% to 225.40 US cents. In August, the price was 218.66 US cents/lb, down from 218.66 US cents/lb in July 2021.
The monthly average recorded by the Colombian Milds in August 2021 was the highest since the level in February 2012, when a price of 244.14 US cents/lb was recorded. It also indicated a 46.1% increase over the previous level. In October 2020, 154.28 cents/lb was recorded.
For the Year 2020
Asia
According to the board's final projections, India's total production of the commodity between 2020 and 2021 was 3.69 lakh tonnes, with 2.35 lakh tonnes of Robusta. A little more than 1.64 lakh tonnes were shipped out of this total. The average price of the commodity in India was 2400 USD/MT, recording a high of 4300 USD/MT in May.
Europe
Its consumption per capita increased to 168 litres in 2020. Coffee drinking at home is credited with the good trends. Last year, there was an increase of roughly 11% (+ 37,900 tonnes of roasted coffee). In the same time span, consumption in gastronomy, at work, and outside of one's own four walls declined by 23%. (- 30,300 tonnes of roasted coffee). Domestic consumption growth more than outweighed the declines in the out-of-home coffee market.
Latin America
During the 2020/2021 campaign, both Arabica and Robusta coffee harvests were lower than predicted. As a result, its inventories decreased, and stock prices increased. Throughout the year, the price of Arabica coffee hovered around 1.2 USD/lb, with the lowest prices being 1.1 USD/lb.
Climate change was one of factors hurting worldwide output of the commodity, which contributed to the fall in stockpiles. Brazil endured severe droughts in 2020, which harmed Arabica coffee plantations. This sparked panic, as analysts estimated that the Brazilian harvest may be reduced by 15 to 20 MMT.
Procurement Resource provides the latest prices of Coffee. Each price database is tied to a user-friendly graphing tool dating back to 2014, which provides a range of functionalities: configuration of price series over user defined time period; comparison of product movements across countries; customisation of price currencies and unit; extraction of price data as excel files to be used offline.