Market Overview of Platinum and its Demand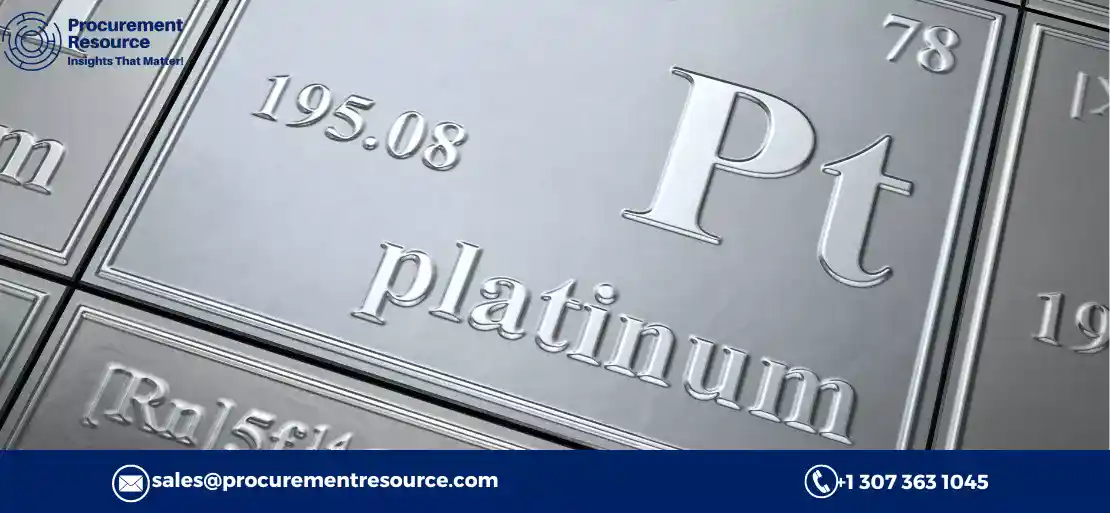 Platinum: What is it?

Platinum is an element with the atomic number 78 and an atomic mass of 195.08 g.mol -1. The word platinum is derived from Platina, a Spanish word that means "small silver." It is a super-rare, silvery-white metal. It possesses a plethora of qualities, such as being ductile and soft. It has a high melting point of 1770°C and is chemical resistant. It has a density of about 22.5 g/cm3 and a boiling point of about 3,825°C.
Regional Outlooks

The region that produces the most platinum is Asia Pacific. Due to the presence of automotive manufacturing giants like India, China, and Japan, the area is expected to maintain its top spot over the forecast period. Additionally, it's expected that the installation of new regulatory standards, like BS-VI in the Indian car industry, will encourage manufacturers to cut back on pollutant emissions and improve fuel efficiency. Strong investor demand for the product is another important factor in fostering regional expansion.
Request Access For Regular Price Update of Platinum
Whereas the European region is anticipated to experience the second-highest growth rate. Over the course of the projected period, North America is anticipated to maintain its position as the third-largest regional market. Due to the dropping commodity prices, investment opportunities are essentially driving regional growth.
Platinum Price Trend 2022

For the first time since June, platinum prices increased more than other precious metals by 23% from September's end. Due to widespread concerns about supply disruptions from Russia, the second-largest supplier of metals in the world, the commodity's prices rose in the beginning of the year.
Since then, the pressure has subsided as a result of the supply chain remaining unaffected and a decline in demand from china, the world's largest consumer, as a result of lockdown restrictions. Hence, it also impacted the platinum production cost.
The World Platinum Investment Council published its predictions for 2023, predicting a deficit in platinum following two years of surpluses. The deficiency would result from an imbalance in the increase of supply and demand.
Market Drivers

Application-based divisions of the market include automotive, jewellery, industrial, and investment. Due to the increased use of commodities in the construction of catalytic converters for automobiles, the automotive industry dominates the application market in terms of revenue and volume. Automotive suppliers are under increased pressure from regulatory agencies to improve their fuel efficiency while lowering overall pollution emissions. Over the projected period, it is anticipated that this will continue to be a crucial factor in the segment's growth.
The item is frequently utilised in a variety of jewellery pieces, including rings, pendants, necklaces, earrings, and more. China, India, and the United States are the main jewellery markets. The industry is expected to develop slowly, nevertheless, as gold-based jewellery is replacing platinum-based jewellery on the market, particularly in China and India.
The sector for investment application is anticipated to experience the highest CAGR. Investors are paying more attention as platinum prices continue to fall. Investors are mostly concentrating on purchasing platinum bars and bullion due to the low prices. Investments associated with bars will probably continue to be a significant portion of the aforementioned category over the anticipated timeframe.
Emerging Markets for Platinum Globally

New Opportunities Will Arise Due to The Need for Green Energy
The amount of platinum needed by fuel-cell electric vehicles is double to that of internal combustion engines. The most effective and durable catalyst is the platinum market, which enables hydrogen to chemically combine with atmospheric oxygen to produce water and energy, which is used as fuel in fuel cell vehicles. The electric motor uses the generated electricity and emits water through the exhaust to achieve zero emissions.
Recent Developments in the market of Platinum
Impala Platinum Holdings Limited intended to purchase a 100% share in the South African-based Royal Bafokeng Platinum in April 2022. It currently holds 35.3% of the Royal Bafokeng Platinum shares. The 100% purchase will make it possible to establish one of the largest platinum metal mines in the world. Impala will also be able to strengthen its position in the market.
Heraeus Holding and BASF SE reached an agreement in February 2022 to establish a joint venture to recover platinum and other precious metals from used car catalysts in China. A new business called BASF HERAEUS Metal Resource Co. Ltd will be established in Pinghu, China, as part of this joint venture.
Key Players in the Market of Platinum
Vale SA
Asahi Holdings, Inc.,
African Rainbow Minerals
Eastern Platinum
Eurasia Mining PLC
Anglo American Platinum Ltd.
Implats Platinum Ltd.
Sibanye-Stillwater
Norilsk Nickel
Northam Platinum Ltd.
The major setback while procuring some products is the need for more correct and apt information about them. Be it their prices, the market trends, opportunities in specific commodities, the dynamics affecting the fate of businesses running on the back of those products, etc. Elements like platinum are classic examples of those products. That's when the need for industry experts in Procurement Resource and a team of its adroit market researchers come to the fore.
Read More About Platinum Production Cost Reports - REQUEST FREE SAMPLE COPY IN PDF
Having helped numerous businesses over the years and consulting the business owners and stakeholders with the right strategy, detailed cost and production evaluation, pre-feasibility of production processes, and whatnot, Procurement Resource is the finest group of experts to help you with all that you need.
About Author:
Prakhar Panchbhaiya
Senior Content Writer at Procurement Resource
Prakhar Panchbhaiya is an accomplished content writer and market research analyst. With over 4 years of experience in content creation and market analysis encompassing many industries, including pharmaceuticals, nutraceuticals, biochemistry, healthcare, ed-tech, and Food & Agriculture, he has been creating quality content for multiple sectors. He is a Biochemistry major with sturdy backing in a PG diploma in digital marketing, helping in the exhaustive content creation based on extensive research and competitive marketing.